Just a quick note of a package I have received today – as a result of a 60€ eBay auction. Offered (and won) was a set of LEGO set from the Classic Space theme – described as "not necessarily complete and not in best shape". I still bid…
This one turned out to be a shoe box of partially assembled sets – and many loose bricks. Also a set of instructions, in reasonable shape. And one of the little catalogs LEGO used to put in their boxes. This one is copyrighted 1983.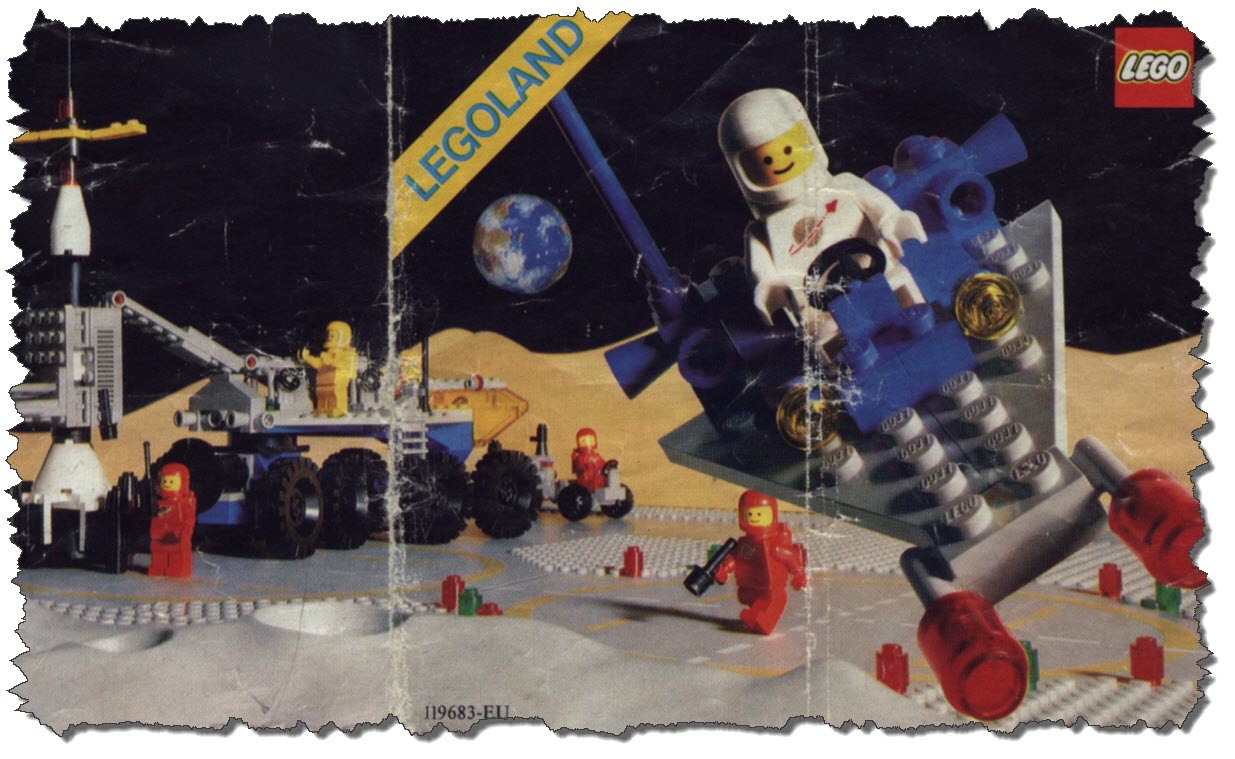 The catalog is nice because you rarely find scans of these – you of course find the individual instructions scanned but not necessarily the "give-aways".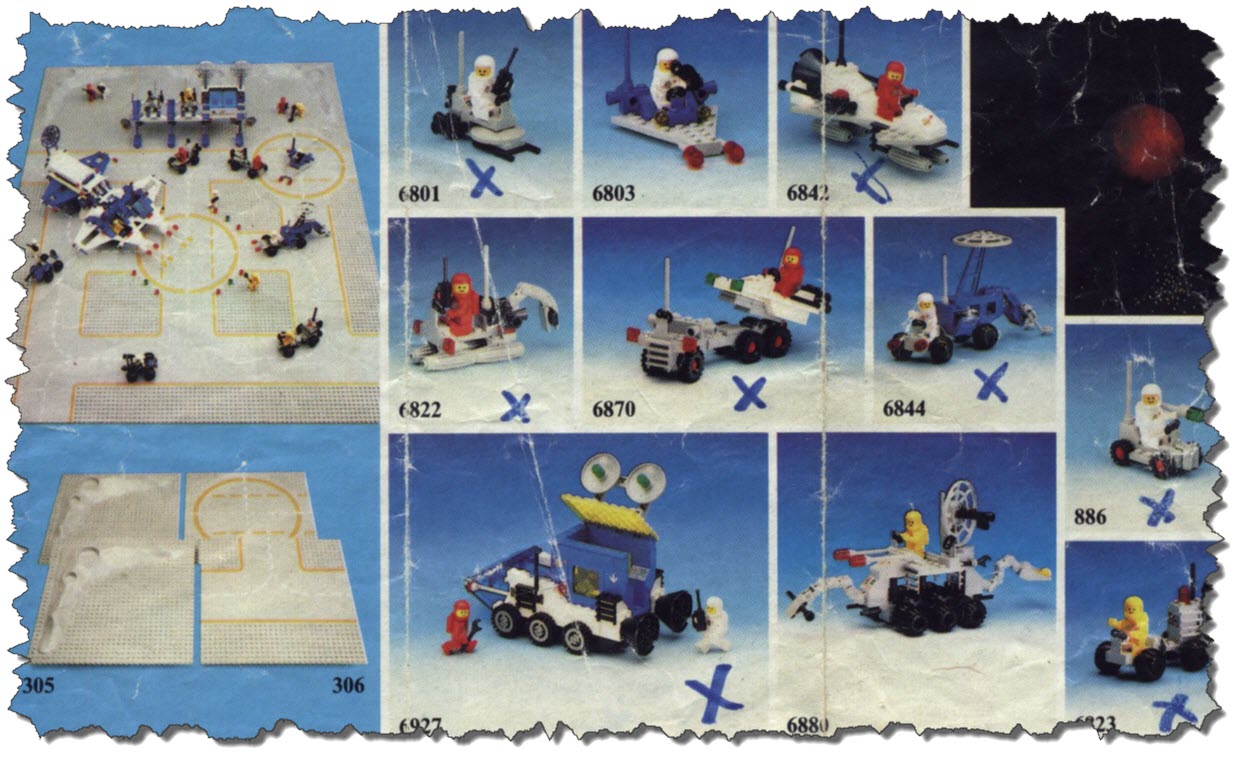 Turns out that by examining the lot of bricks more closely, the following pieces are – at least partially – included:
LEGO 6801 – the Space Scooter – is in but lacking two of the three black gliders ounted at the bottom. Instead, I found two gray ones not used…
LEGO 6842 – the Shuttle Craft – is present by it's instructions and about 50% of the bricks but none of the white top-cover pieces…
LEGO 6822 – the Space Shuttle – is present but the base of the flexible arm is missing…
LEGO 6870 – the Space Probe Launcher – is more or less complete, one while 2×3 plate is missing…
LEGO 6844 – the Seismologic Vehicle – is almost complete, one round gray 1×1 brick is missing…
LEGO 6927 – the All-Terrain Vehicle – is in there with about 80% of the bricks and the ones missing are of minor importance and can be replaced…
LEGO 886 – the Space Buggy – may not be in there but can simply be build from the remaining bricks – short one 2×4 plate….
LEGO 6823 – the Surface Transport – is in and complete…
LEGO 6821 – the Shovel Buggy – is in and complete…
LEGO 897 – the Mobile Rocket Launcher – is in and 90% – the missing pieces have temporarily been replaced by similar bricks…
LEGO 885 – the Space Scooter – is in but the two transparent blue 1×1 round bricks in the back are missing…
LEGO 6841 – the Mineral Detector – is in and 95% complete – the 1×6 plates are currently replaced by 1×8 plates…
LEGO 894 – the Mobile Tracking Station – is only in there with about 25% of the bricks… a write-off…
LEGO 918 – the Space Transport – is in there, about 90% of the bricks are present, the rest can be replaced. The critical bricks, the two LL 918 bricks and the slope brick if the logo are present…
LEGO 920 – the Alpha-1 Rocket Base – is present and 95% complete…
LEGO 926 – the Command Center – is present (this was the one I was mainly after) and about 95% of the bricks are present (those missing belong to the two buggy cars, the station itself is complete…
At the end of the day, the most wanted set, LEGO 926, is in reasonably good shape and I got an additional 13 sets with a high grade of completeness.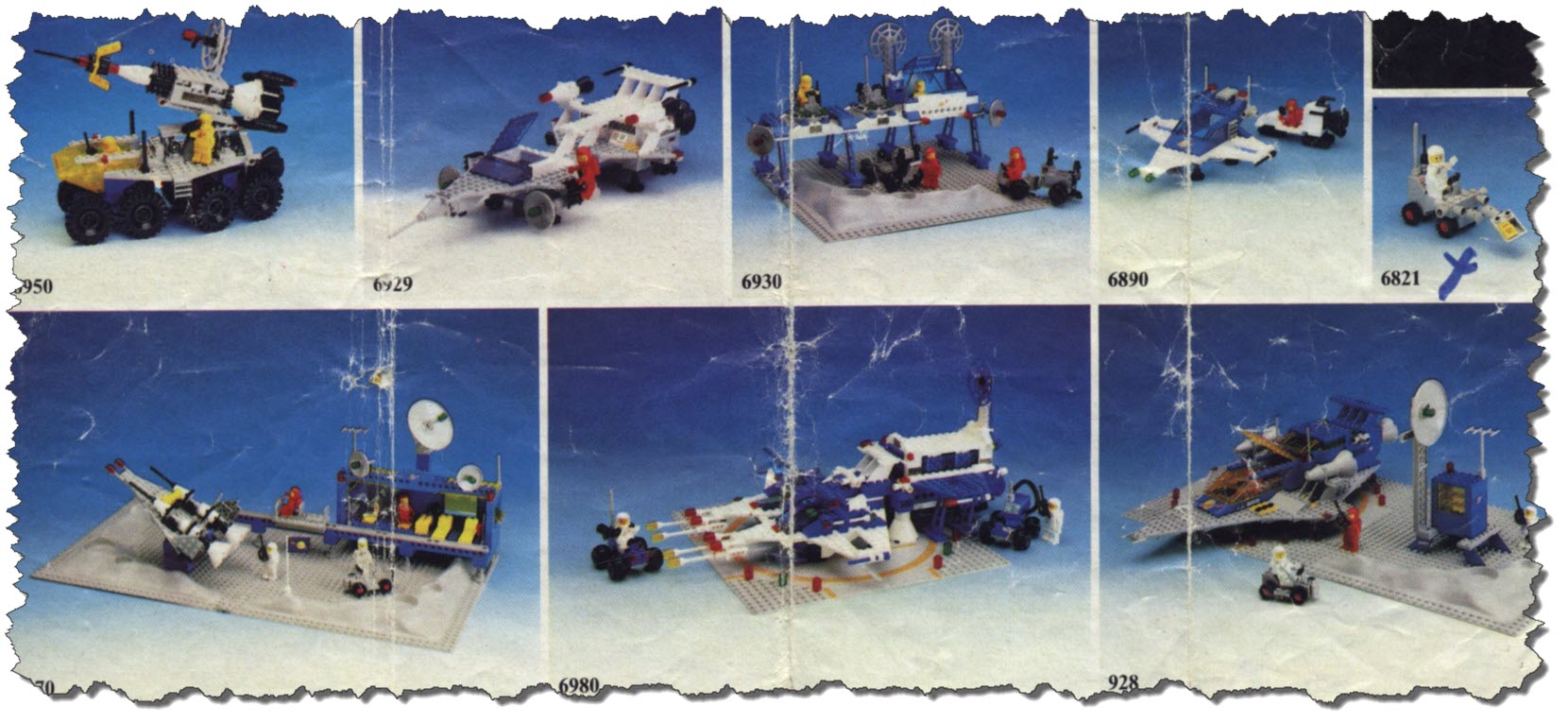 The astronauts are possibly write-off's as well – their logos have faded and the entire lot of bricks needs a good cleaning. But it does extend the sets in my collection considerably and also adds to my spare parts… all in all, a nice win…
Looking at the scanned images of the old catalog, I can also say that I am owning all of the pictured sets now except LEGO 6803 – the Space Patrol – quite a few more than I used to own back in the early 80s…