There are two LEGO Sets – LEGO 6861 and LEGO 6901 – which either have not been sold in Europe or are really difficult to get their hands on.
For the 6901 set, I have a comment that it was only sold in the US – the other one comes doe not come with that comment but both share a very specific characteristic: they both use bricks in transparent green – which no other Classic Space set does (to my knowledge).
LEGO 6861 – X-1 Patrol Craft
With LEGO 6861, I am confident that it can easily be re-build – it is made from standard bricks and I got plenty of spares. Like always, the inventory providing the brick list is available from Peeron, building instructions come from Peeron as well.
Scanning my boxes of spare parts, I can come up with many but not all bricks: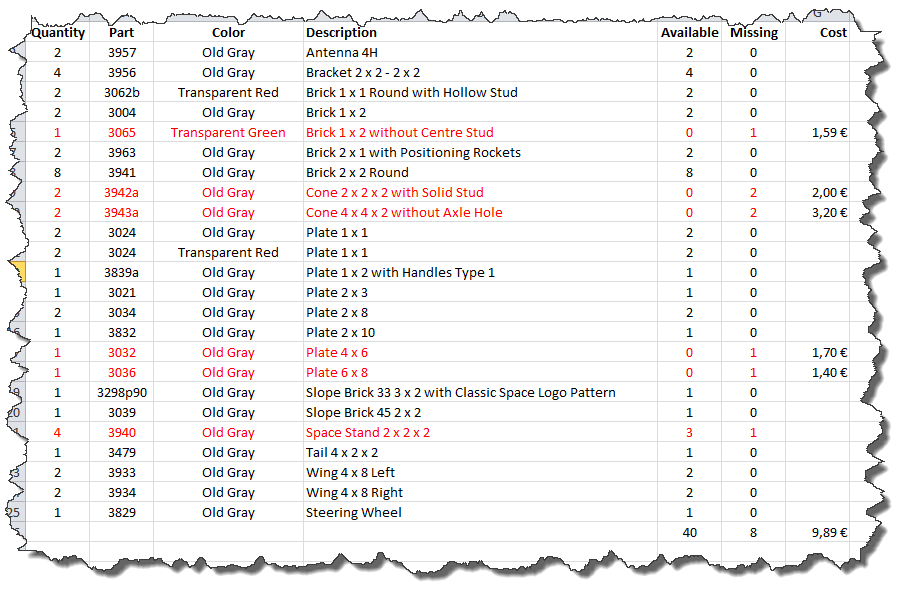 The ones in red are missing, all but #3940 are currently available on eBay with the prices given. The total cost of assembly would be "just around 10 Euros". A full set but also with replacement bricks is available at eBay at this very moment… but given the potential bid race, I think I would be better of buying the individual bricks (especially since the set comes without instructions) and the transparent green 1×2 Bricks come in a pack of 10 (leaving me an option to build LEGO 6901 at some point in time). All in all, these are the parts I can use: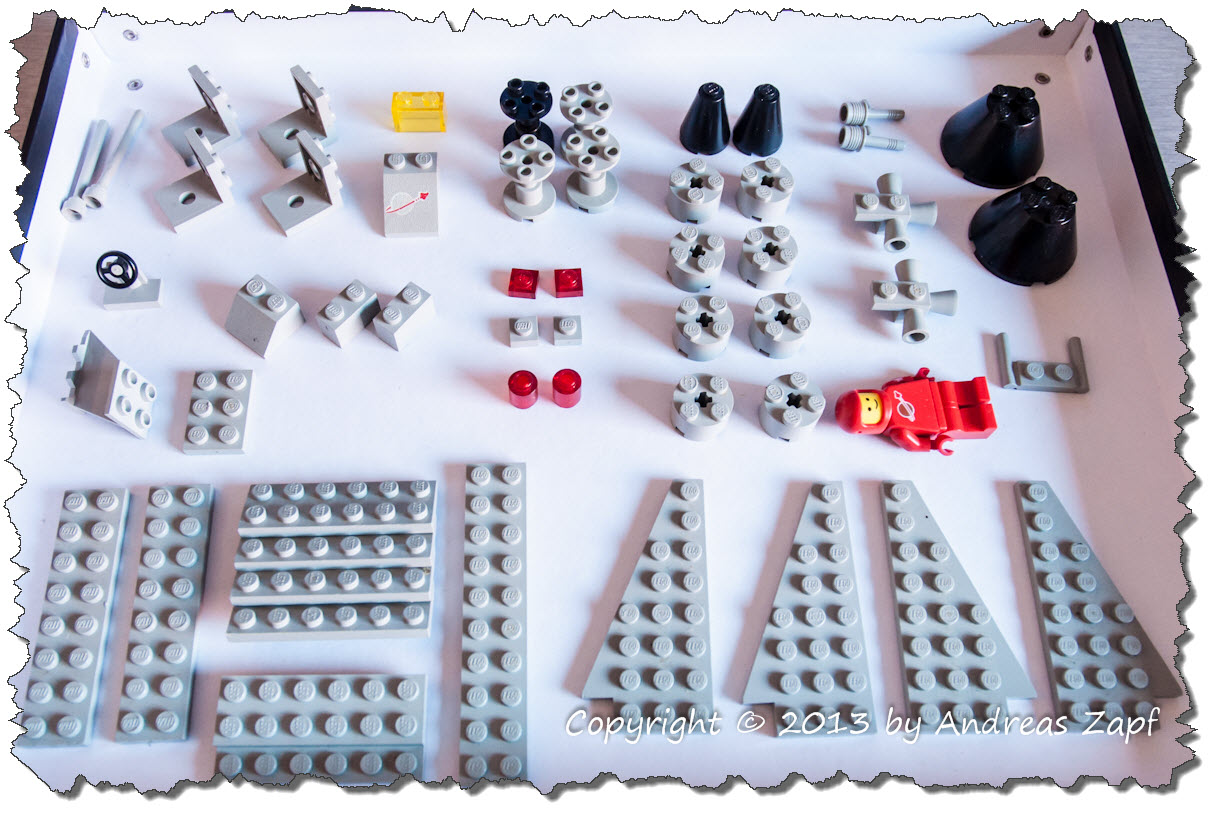 As you may notice, I am using 2×6 plates to replace the missing items 3032 (Plate 4×6) and 3036 (Plate 6×8). Which leaves me with just five black parts (which are the visual misfits and a transparent yellow 1×2 brick instead of a transparent green one).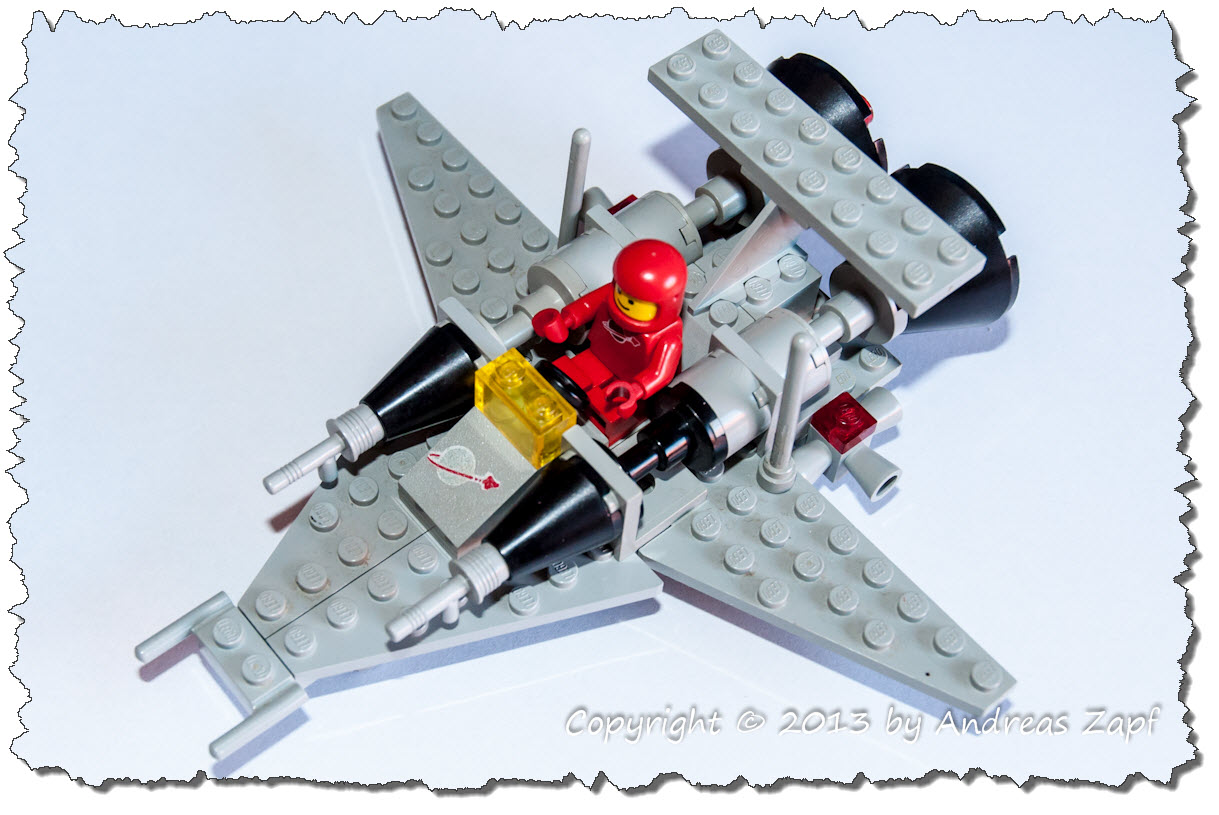 Assembly is quick and easy, I even have the slope brick with the space logo in my spares – and a decent looking red astronaut.
LEGO 6901 – Mobile Lab
It does not look as good for LEGO 6901 – this one is using some parts that are hard to get – including the transparent green slope brick (3939) and the 1×4 bricks (3066). Combining the items from by stock with what I can raise at my preferred brick seller at the moment, I would have to invest about 15€ but I would be missing a significant number if parts – some of them not or not easily replaceable.
So there is currently no point to try and build this set from scratch – maybe one day I will, replacing the transparent green items with transparent yellow ones (close to LEGO 894 then) but it won't be the original set then… or a re-creation thereof.