Why would one write about a trip that has happened about 15 years ago? Well – maybe because of that, maybe because there had been an "initial" trip report on my previous web site and maybe because I am thinking of doing another one some time soon.
Also, because this is a story about the opportunities today's hardware, media and Internet services offer when it comes to re-tracing steps from long ago.
Back in 1996, I took nothing but an old-fashioned camera with me and several rolls of color slide films. All in all, there must have been about one thousand pictures from the four week trip, about 750 which I kept. They had been buried under dozens and dozens of other slide magazines down in my basement for the better part of the last 15 years.
Then – about two years ago – I decided it is time to take my color slides into the digital age – and bought an Reflecta DigitDia 5000 Slide Scanner. It took me another two years to view the results, make the required corrections to the scanned images and get to write this post.
And I am not done yet – the remaining task is to add the missing Geo-Tags to the images which made me re-trace my steps from way-back-when and finally sparked the idea to write down the story here…
To give myself a little more fun (and credit to my original report), I will re-cite the original words and will amend and comment as I see fit now, 10 years after the initial report was written.
September 8th, 1996 – Leaving for the United States
"We started the tour in Frankfurt/Germany – the airport is just a couple of miles away from the place I live – pretty easy to get there.

Unfortunately, there is no direct flight from Frankfurt to Denver so we had to take a connected Delta flight via Atlanta. Flight time was about 10 hours to Atlanta, a couple of hours waiting for the next flight and three more hours to Denver so you can imagine we were pretty tired when we finally arrived at our destination at about 8pm local time."
One of the first things that came to mind after scanning the slides if of course the questions "Which time-stamp should the images receive?" – from the scanner, they came with the date they had been scanned but any modern photo management software is happily dealing with the embedded information, sorting the images and putting them on a timeline. It was quite obvious that the best solution would be to try find the exact date the picture was taken and use some software to fuse this information into the image itself. For geo-tagging and date correction, I am using an excellent tool named GeoSetter – surprisingly available for free and well worth the download time! GeoSetter is Donation-ware – anyone is free to decide if and how much the application is worth to them…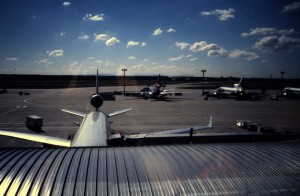 Back to 1996 – we left Frankfurt some time around late morning or early noon I would guess from this picture taken while still in the Terminal 2.
We have been flying Delta Airlines – not knowing if the plane in the foreground is actually "our" plane (but thinking so) it looks like we got ourselves a ride in a McDonnell Douglas MD-11 but in the background, parked at one of the V-Gates in Frankfurt, is also a Lockheed Tristar L1011, also recognizable as a Delta Airlines bird.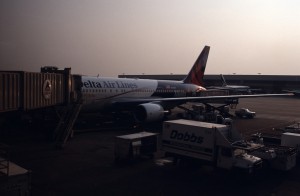 Since at that time there was no direct flight to Denver – our starting point in the United States – we had to connect via Atlanta Hartsfield. I remember Atlanta as a long time of waiting, already overtired and not very worth spending more time than required at the airport. The connecting flight to Denver was again operated by Delta Airlines with a Boeing 767-200. How do I know? Well – that again is one of the many enhancements from the time 15 years ago: information is much more accessible through the Internet than it was then: a website called airliners.net is specialized on photos of aircrafts and since my picture shows the registration number N102DA quite clearly, it is not difficult to find other pictures of this plane and confirm the identity.
Eventually, we arrived in Denver late local time after a flight that I only remember as "very cold and very empty" – but we arrived safely, got our car and found ourselves a Motel which we had reserved (or at least looked up) before starting the trip.
September 9th, 1996 – Denver, Boulder & the Rockies
"Getting up the next morning was not as bad as we thought it would be – probably the weather and our expectations helped a bit."
One indicator that this trip took place well before a digital camera was around (at least in my hands) is the fact that specific photos are missing – slide films had been expensive and I'd taken a lot of pictures but not nearly as many as I do today. So there is no picture of the Best Western Motel we stayed in.
"Heading downtown in Denver on a Sunday morning is not that bad – there is nearly none around to bother you and even finding a parking spot was no deal at all."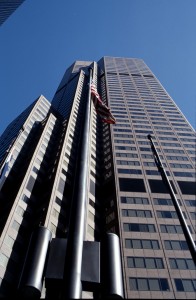 Maybe that was a bit "taking it too easy" from our side – there had been comments that downtown Denver is not a spot where you would like to hang around being touristy when not many other people are around. Nonetheless, we did enjoy the city center and the building there.
For me, it was the first encounter with a US City and therefore, I was not quite sure what to expect. All in all, Denver does not have that "absolutely great skyline you really gotta see" but I did in fact enjoy myself.
Interesting about the city and the photos if the city is that you can easily use Google Earth to locate the spots the pictures had been taken in (switch on the Panoramio layer to make things easier!) and then add the missing geo tags to the photos.
"Probably the best place to be was right in front of the state capitol with its golden dome. Weather permitting (and 30° Celsius and clear skies for sure permit) you have a wonderful view across the city park and the city hall towards the snow-covered Rockies in the distance."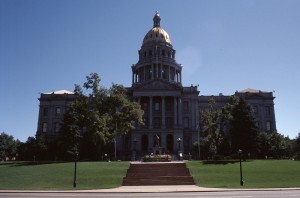 That is actually true: the Colorado State Capitol and the surrounding area are good for quite a view – especially on days like that one when you had a perfect view of the Rocky Mountains stretching across the horizon.
So after having spent the morning in the city, it was time for us to leave – next stop on the road was Boulder, our gateway to the Rockies.
"Actually – leaving Denver was not that hard – we did not come for the cities but for the landscape and to be honest – even the tiny Boulder could not really stop us from going into the Mountains. If you have a map and like to check the way – we took Hwy. 36 from Denver to Boulder and then the 119 into the Rockies."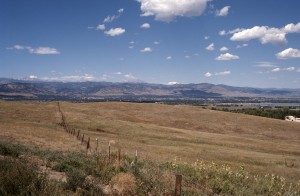 The original comment above still talks about "maps" – obviously written long before services like Google Earth have been around to make things easier and better accessible for anyone. So here is the actual route for anyone who might be interested.
Another thing that has been quite a bit different than it might be today is the actual navigation: 1996 was long before general-purpose navigation systems had been available or even built into cellular phones and mobile devise. In other words: navigation was the good old manual – some would say old-fashioned – way using maps and landmarks.
"There are faster ways to get to Estes Park than 119 and 72 but this is supposed the most scenic one – with Lily Lake as highlight before you finally get into the touristy Estes Park. Lily Lake is the first Visitor Center in Rocky Mountain NP if you arrive from the south as we did – a tiny lake you can walk around and you will find it really enjoyable – again, weather permitting. And we figured out that there is a good chance to run into some rain in the late afternoons."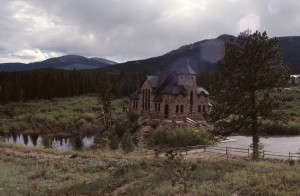 The actual route from Denver to Estes Park is just over 80 Miles – not much but it took us all day, mainly because we could not stop stopping. And again, it is Google which helped quite a bit to retrace our steps and find the spots certain pictures had been taken. A good example for that is the Chapel on the Rocks – St. Malo. I only remember the small church sitting by the side of the road but I failed to remember where or what that picture was showing.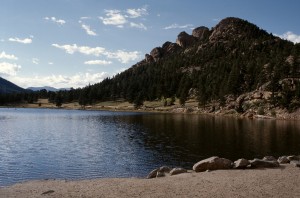 The favorite stop on the way to Estes Park was Lily Lake. This was the first of many stops that actually allowed us to enjoy nature and the vastness of the American West. There had been a couple more opportunities during this trip but as Lily Lake was the very first one, it has a special place in this story.
Since it was late afternoon, we did not even take the time for a long walk (not that two men would have taken a long walk anyway!) but still just sitting there and enjoying the scenery is special – if you ever get into that part of the world, don't forget to take a break.
"If you want to spend the night in Estes Park, make sure you have a place to stay – even if season is over! It took us a good time to find a Motel that had rooms available for a fair price…anyway – we spend the evening getting something to eat and a couple of drinks later on so it really does not matter what the room is like – it was OK."
Well, true – we had planned the trip with the foolishness of the unexperienced traveler – otherwise, we would have known that there are some spots that will always have decent vacancies and others where it might be worth booking ahead. Estes Park, as the gateway to the Rocky Mountain National Park, is certainly falling into the latter category. Still, we got lucky and found ourselves a place to stay for the night.
That ends the second day of our trip – since there is quite a bit more than fits into a single post, I finish this one now and will follow up another day…