You may have heard about Geocaching – that is the activity that makes grown-up men walk in the countryside without their better halfs having to push them. Basically, you get yourself a GPS, an account on www.geocaching.com and start hunting for "hidden treasures" in your favorite area. And there are plenty these days – if I check the map of caches around my hometown, this is what I am getting: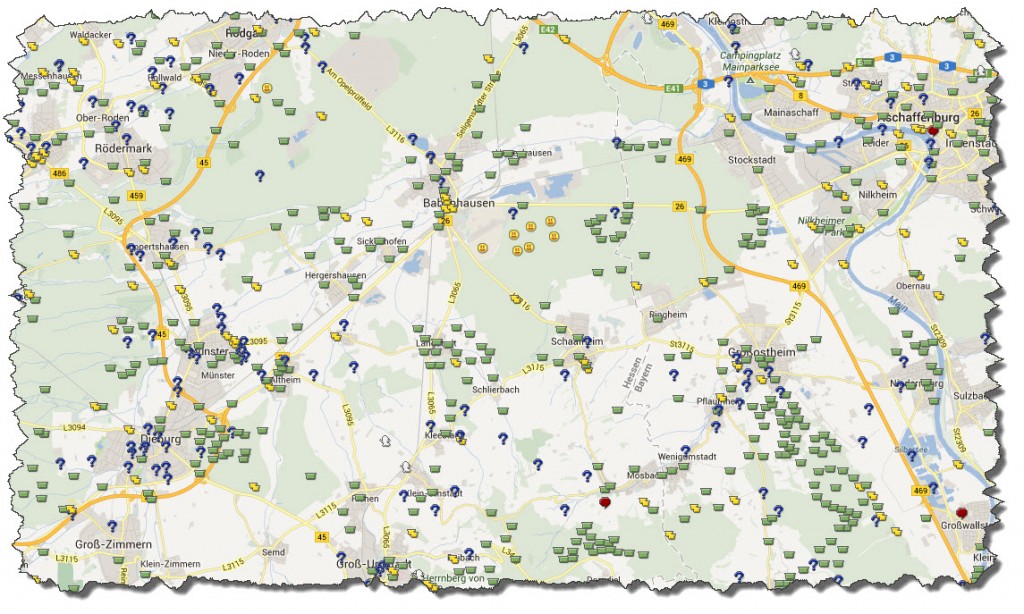 But besides finding hidden caches, there is another fun activity and this has to do with so called Trackables. A Trackable is an item that you attach an ID to (so people that find it accidentally can get an idea of what it is and people that know what it is can get it's Travel Bug ID.
Next, you place the Trackable in any cache you find that is large enough to hold it… and wait. Somebody else will pick it up and place it in the next cache and so on… but by placing a Trackable in a cache, you also "log" its new location – and everyone (hopefully) can follow the item on a map automatically maintained by the web site.
Many years ago, in 2005, I have sent out three Trackables – only one of them has survived the dangers of the open world. Another one was lost in a flooding in England, yet another one just disappeared. But one – I named it HEINER-7 in reference to the radio call-sign of the Darmstadt Police – has made it…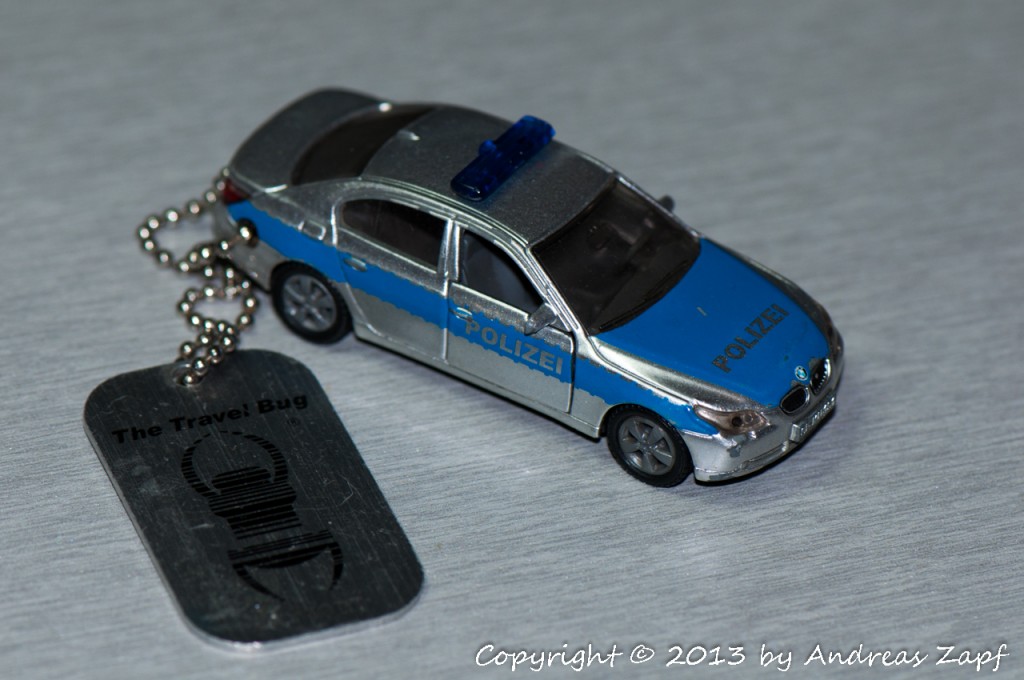 The little Police Car – Polizei in German – has made quite a bit of a trip: I dropped it off in a Cache named "Bernd Rosemeyer Memorial" (Cache Code GCGWFY) March 26, 2007. It was quickly picked up and made its way to several caches in southern Germany.
Later that year, in September 2007, it was picked up and taken to England where it spent a bit of time – primarily because it was "kept out of the loop" for about 6 months. After it was "returned to active duty", it made its way through other caches in Southern England and was finally taken to Switzerland.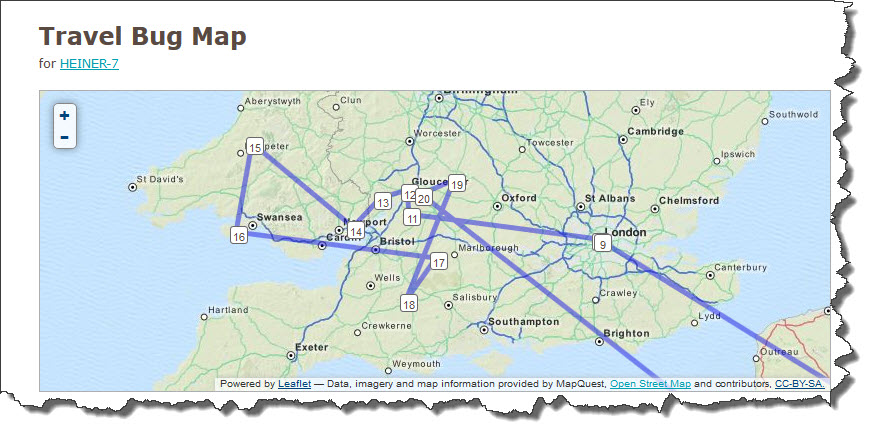 There, it went through several caches until it was taken ti the Mediterranean Island of Crete in 2011.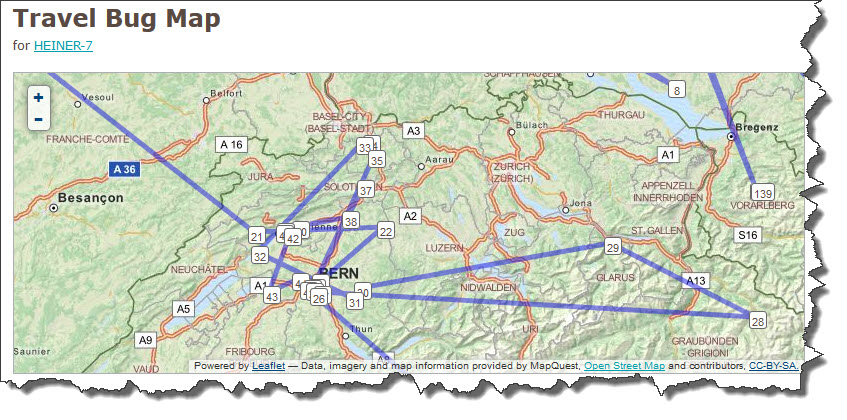 Crete turned out to be a one-stop event – it was picked up and taken back to Germany, into the area of Cologne. Again, touring the area around the Ruhrgebiet for a bit, it eventually made its way to France.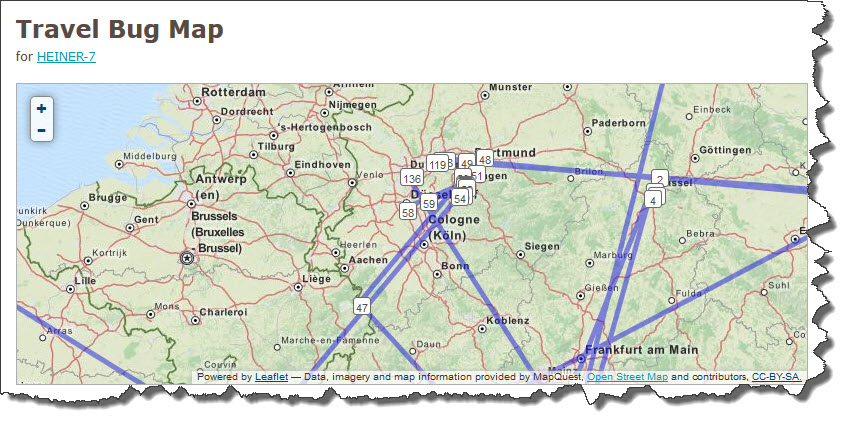 It was southern France first, then later the eastern parts of the country. Eventually, in August 2012, it was taken back to Germany, this time to Brandenburg, close to the border of Poland.
Around this time, I had decided to try and "call it back" – I updated the mission description on the site attached to the Trackable and despite the fact that is made a little detour through Poland, Lithuania and Latvia, people started to pick up the new mission which was "to return home".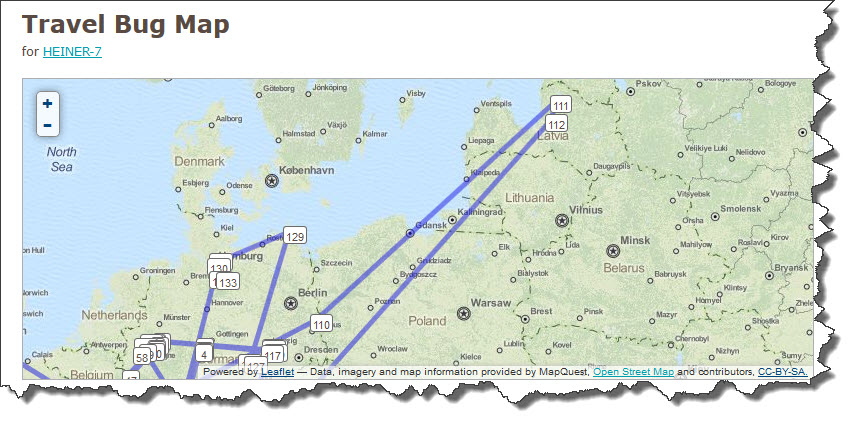 But Geocachers are frequent these days and it was soon returned to Germany – to Munich this time. But returning home was not easy – from Munich, the little car travelled to Saxony and the up to the Baltic Sea until it arrived in the city of Hamburg in May 2013.
From there on, things were coming to an end – despite another little detour to Austria, people really started to look up the Travel Bug's (TB's) mission and instead of dropping it in Austria, they returned it back home 🙂
Finally, on September 21, 2013, it was dropped in a Geocache near Heppenheim, some 60 Kilometers from my home. It remained there until mid October when I was in the city of Speyer and – on my way home – stopped over to retrieve it from the Cache (which I had a hard time finding but hey, I knew (or at least hoped) my TB was there…)
All in all, the little Police Car travelled roughly 18.000 Kilometers in the hands of friendly Geocachers – thank you to everyone who supported this Trackable or any other of the many in the Caches of the World.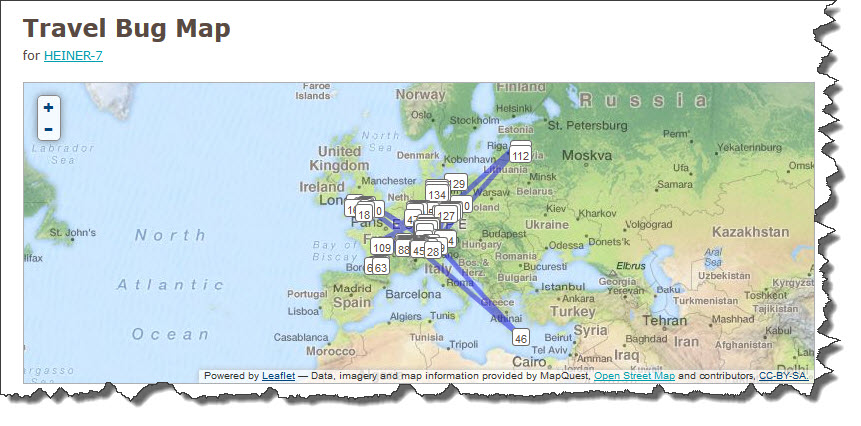 This one will now retire to my shelf and remain there – it has seen it's share of travelling. I have others running and we will see if they will have similar stories to tell.
Finally, I would like to share a set of photos taken by other Geocachers while the TB was in their hands.