Today, I was scanning old documents and photos that my grandmother has been holding on for a life-time, as it looks like.
One of them caught my attention because it was clearly labeled to a location and seems to be something that once was officially sold as part of a set or so. Nothing more I got than the front and backside of this old black & white picture.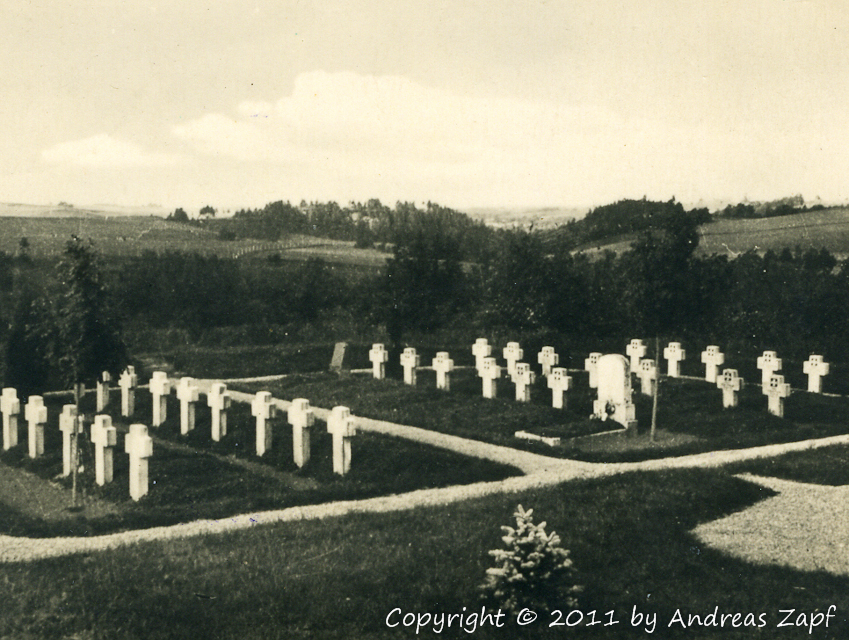 The image was one of an old military cemetery, the backside was holding some additional information:

I have nothing else but this picture so I was curious to see if and how the Internet can help to reveal the location and possibly the time the picture was taken.
When was it taken?
The image was certainly taken between 1918 and 1945 – the publisher Gräfe und Unzer is mentioned and Königsberg Pr. is named as the publisher's home town. That would be Königsberg, Preussen which since 1945 is Kaliningrad.
Assuming that the publisher was up-to-date with legal affairs and assuming the image was not an older one that simply was recycled, the exact name pf the town given as Königsberg Pr. indicates that the image was taken between 1936 and 1945: before, it would have officially been Königsberg i. Pr. (vgl. Wikipedia on Königsberg).
Where was it taken?
That question seems to be more difficult to answer – the original label has been corrected (by whom is unknown) – it originally read "Gefallenfriedhof Mattischkehmen", then had been corrected to read "Gefallenenfriedhof Kiauten". I dare say it was a private correction – is seems like a blue pencil has been used to cross out the name Mattischkehmen and maybe a typewriter to place the name Kiauten.
Where are Mattischkehmen and Kiauten?
Looking up Mattischkehmen on the German Wikipedia site reveals a good hit: Mattischkehmen is today known as Sowchosnoje and lies about 120 Kilometers to the east of Kaliningrad.
But what about a War Cemetery? There are a couple of German websites about East Prussia that can help: and in fact, Mattischkehmen did have a war cemetery for the German and Russian soldiers who lost their lives in World War I.
But what about Kiauten? Again, the German Wikipedia can help: Kiauten is today named Smirnowo and lies about 16 Kilometers to the south of Mattischkehmen. However, the Internet does have no actual indication that there is (or has been) a war cemetery in Kiauten.
However, there is one war cemetery marked in Gawaiten which today carries the name Gawrilowo. Gawaiten only is about 5 Kilometers to the west of Kilauten and that seems to be close enough to try.
Image Comparison
Most extraordinarily, the Internet has photos of both war cemeteries, Mattischkehmen/Sowchosnoje and Gawaiten/Gawrilowo. Compare the two images and make up your own conclusions – maybe it is not so important where the picture has really been taken. Maybe it is more important that it took me on a journey through time and location and serves as a reminder that, despite all problems we may have today, other generations had less luck with their time than we have with ours…