I have not been using my Flight Simulator for quite a few month – no time, other interests, other problems. But now, when the nights get longer and the weather outside nastier, it is time to return.
Updates & New Products
While I was "offline", some updates to products I had purchased previously and some new products that got my interest have appeared with ORBX:
The airport of Jackson Hole (KJCA) was released – this is of particular interest for me because I had been in the Grand Teton Range before and immensely enjoyed it.
The airport of Fall City (1WA6) – one that I wrote about earlier – has received some updates that are worth exploring.
And I always wanted to extend my trip discussions through the Pacific Northwest, one of which I had published previously.
Flight Planning
Having said all that, the logical choice is a flight from Fall City to Jackson Hole. Given the size of the Fall City Airport, the aircraft of choice is my favorite Cessna T182T, kindly sold to me by Flight 1 via aerosoft.
As the crow flies, the trip is about 520 NM, roughly four hours for the Cessna. But who wants to fly like the crow?
The idea is to leave 1WA6 on a  course to the east-southeast, following the Interstate I90 all the way to Spokane. Past Spokane, I will be crossing the border into Idaho, still following I90 to Missoula and on to the intersection with I15 which will lead is southward.
Near Dillon, I will leave the Interstate and cross the mountains to West Yellowstone. From there, it is across the Yellowstone Park and following Hwy. 191 southbound to the Grand Teton Range and Jackson Hole.
Fall City Airport Version 1.20
I have liked the looks & feel of Fall City Airport the last time I talked about it – I still believe that not everyone needs moving grass and trees swinging in the wind – and now, with Vehicle Flow included – driving cars… but it surely looks nice!
I had not found may issues the last time I was flying from and to 1WA6 – the only one that I do remember was a bug that crashed me in the middle of the runway during takeoff run – this one was only to be avoided by switching off FSX Crash Recognition. This time, flying with Crash Recognition switched on, I had no issues getting the plane off the ground… so this one seems to be fixed.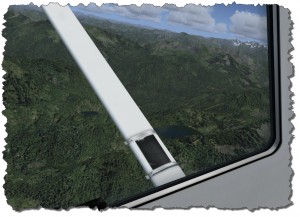 Flying out of Fall City towards the east is not as straight forward as one might thing: the elevation is quickly gaining and unless you are flying a jet (which the runway is too small for!) you will have to find your way through the valleys to gain altitude before setting for your direct course eastbound.
But when you are on safe ground, that is having a clear path ahead of you, you are rewarded with some spectacular sights on the nearby mountains and lakes.
En Route to KJAC
Flying east, the mountains withdraw a bit – the area around Ellensburg is a basis that stretches almost to the Columbia River. From here it is a mere 120 NM to Spokane, the next big mark on I90 eastbound. Meanwhile, I have also reached my cruising altitude of 15,000ft, now quickly gaining speed.
Passing Spokane and the Fairchild Airforce Base, it becomes obvious that this great airbase has not been modeled in the ORBX Scenery – the nearby Spokane International Airport has at least received terminal buildings and hangars and AI Traffic – but Fairchild is deserted and almost plain.
A bit after I have been passing Spokane, the great plains of the north west end – I am back in mountain country, heading for the city and airport of Missoula.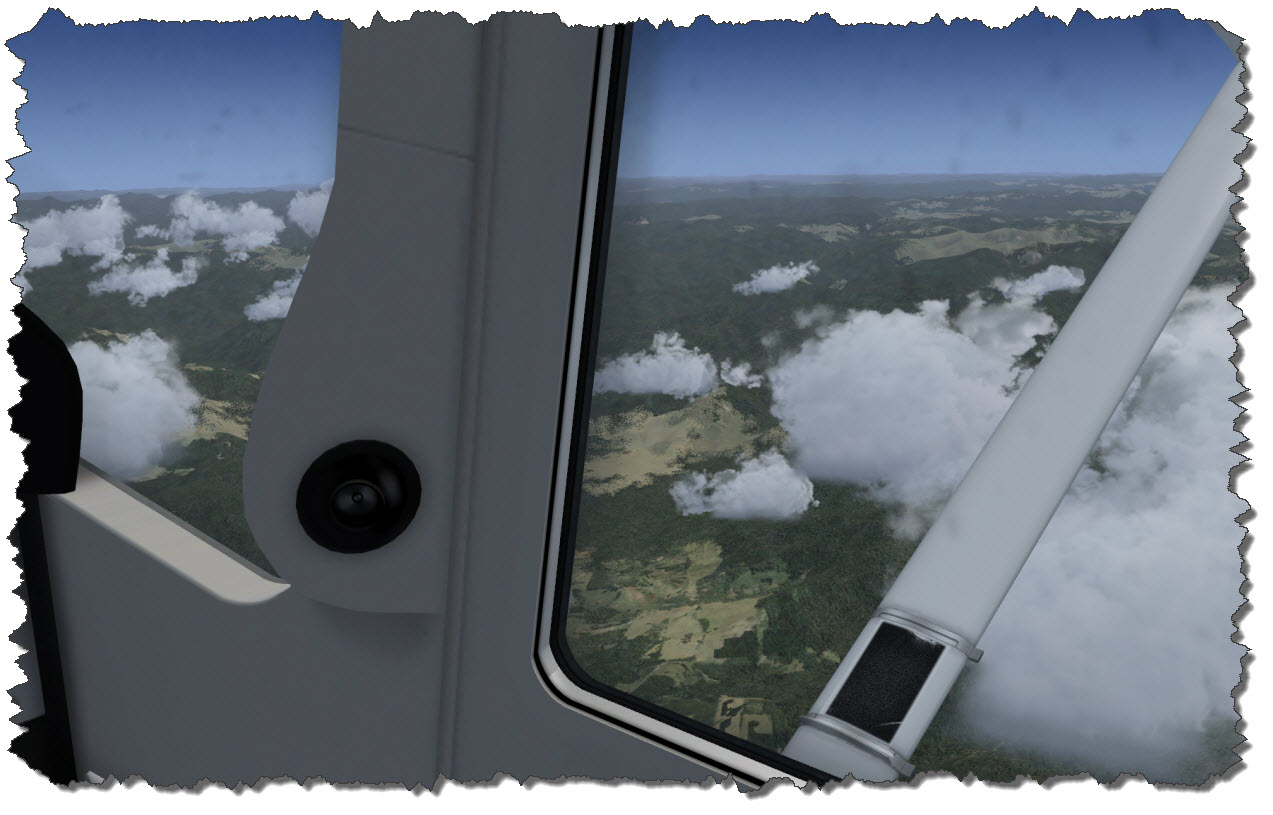 Near Drummond, it is time for me to leave I90 – I take a shortcut southbound, directly towards the I90/I15 junction.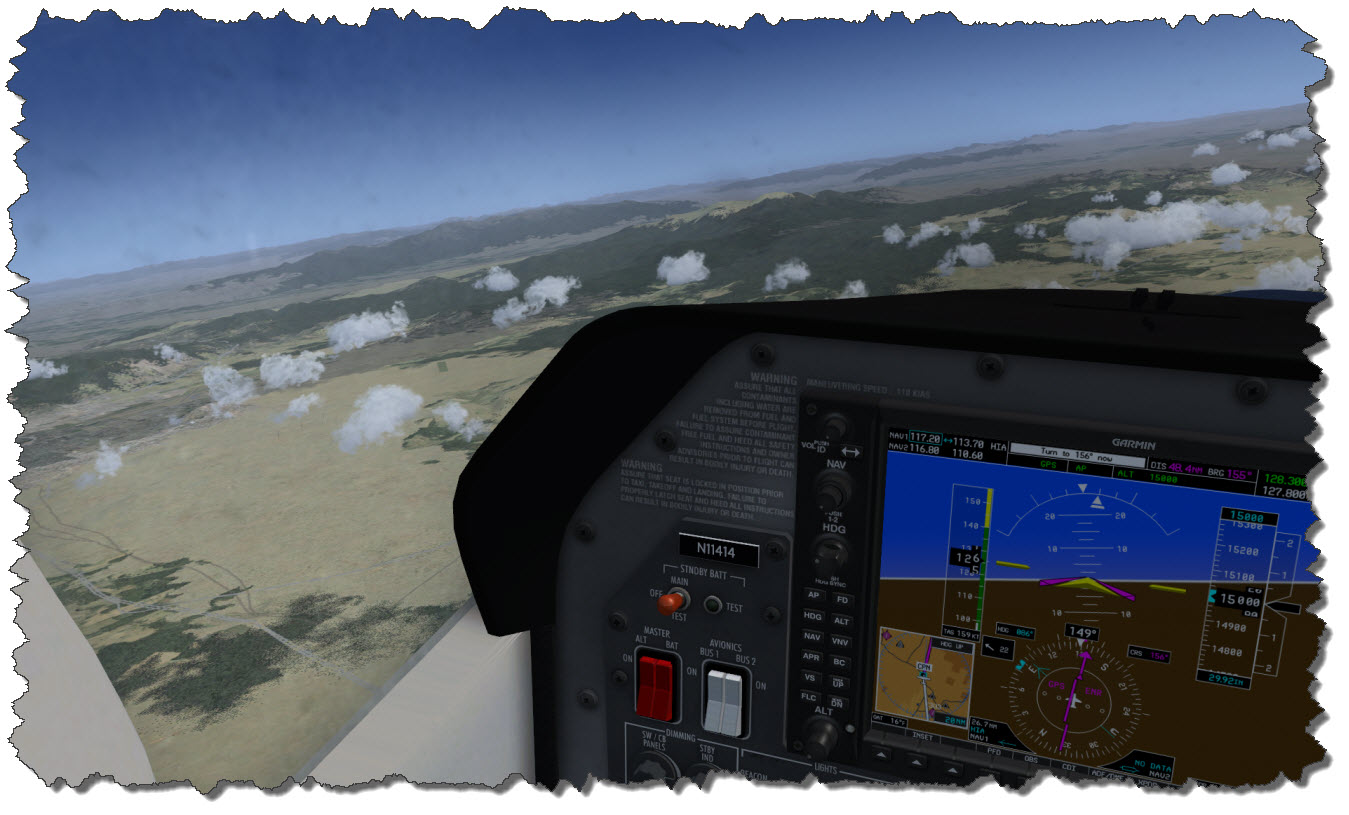 With the Interstate  Junction clearly in sight, it is time for me to turn to the south – towards Dillon which is another 50 Miles or so… and then to venture over to Yellowstone National Park.
Dillon, I have to admit, is in the middle of nowhere (those that live around there and read this may forgive me) like so many other places up here.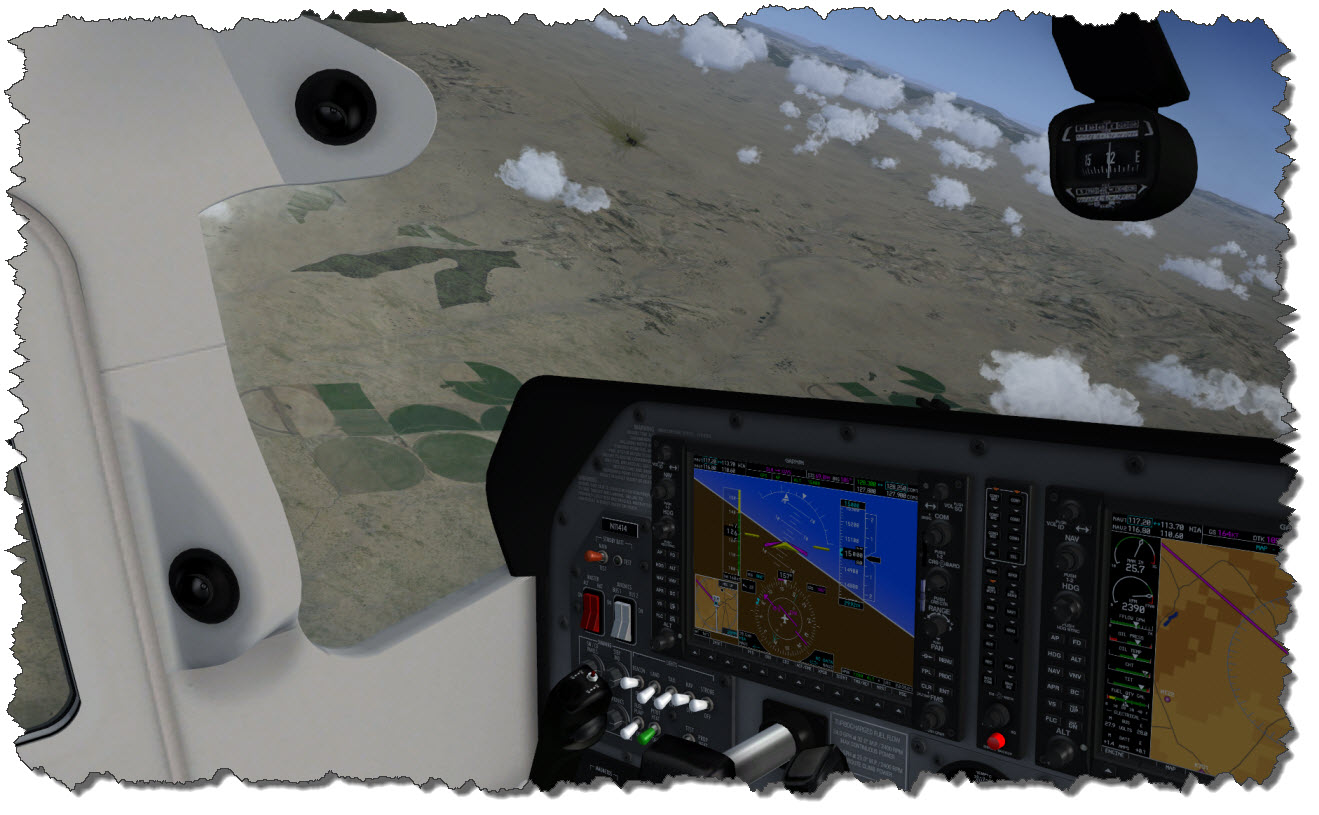 But now it seems as if the ground is slowly creeping up towards me – Dillon's airport (KDLN) is at 5,200ft, West Yellowstone's airport (KWYS) is at 6,650ft. And between me and that airport are some of the higher mountain ranges… but my 15,000ft should be just fine.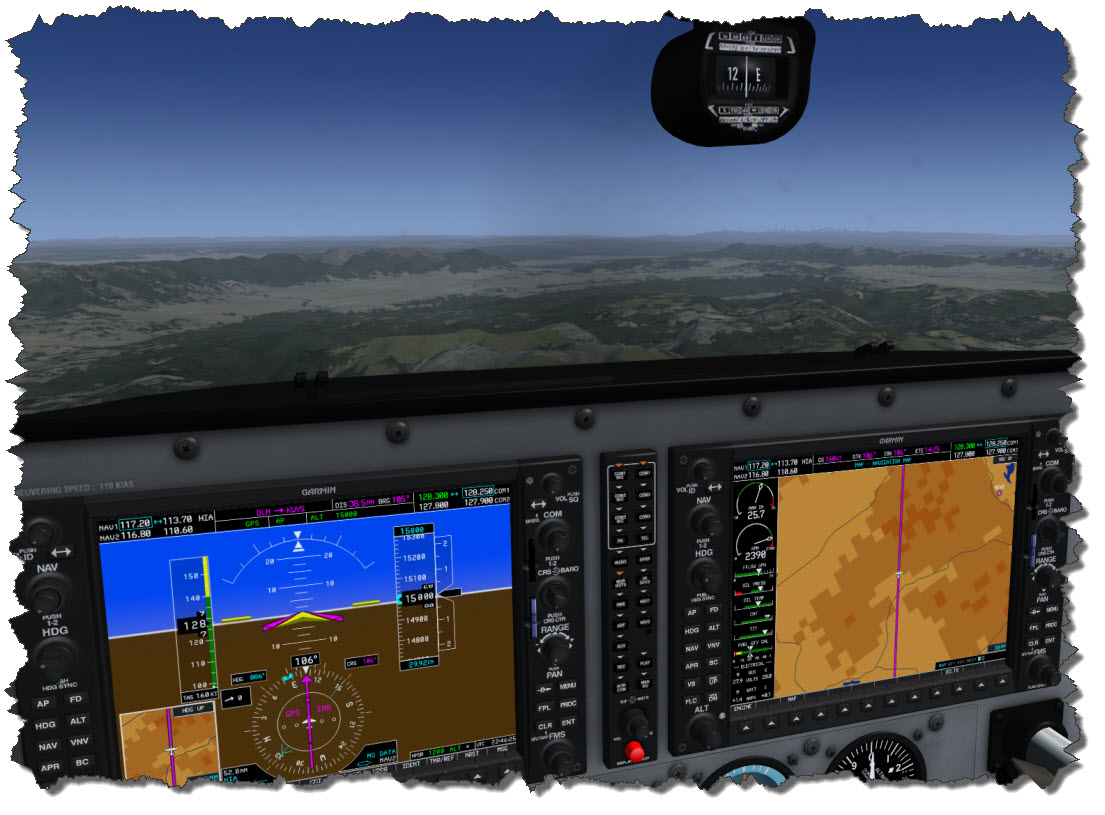 By now, weather has been giving in to the needs of the photographer (or in other words: to get my screenshots I have removed the cloud layer…) and in the distance, I can already see the Grand Teton Range coming up.
Yellowstone Park
Crossing West Yellowstone and heading into the park, famous attractions such as Emerald Pool or Old Faithful become visible from above. ORBX has done a superb job blending those areas as photo textures into the otherwise landclass-based scenery.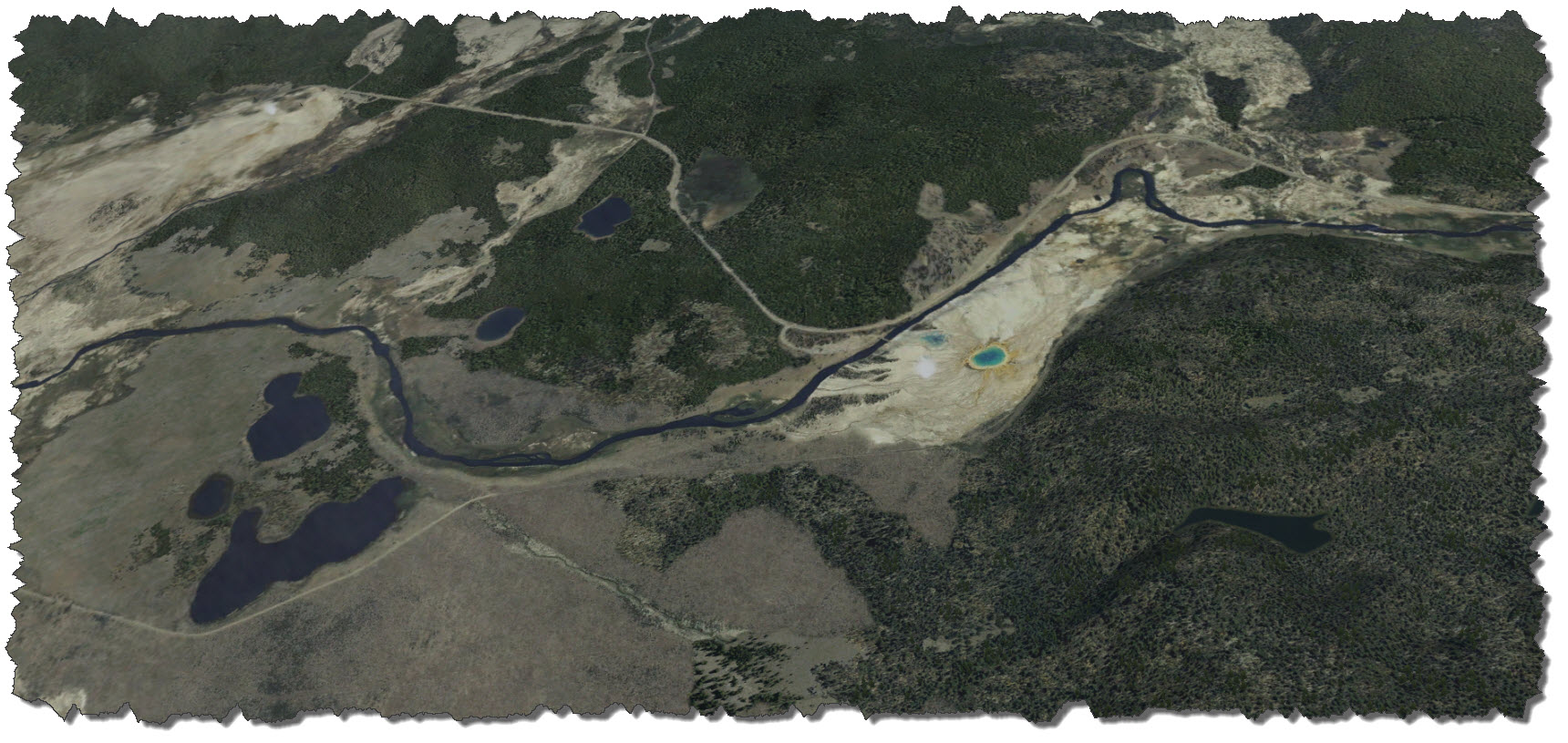 Flying south, I can see Lake Yellowstone to my left – the big lake sitting peacefully in the landscape, defying its true nature as a "super volcano" and the whole area being nothing but the caldera.
…and to Jackson Hole Airport
Meanwhile, I have contacted KJAC and have been given straigh-in landing permission on runway 19. The approach takes me right over Jenny Lake – some say one of the nicest spots in the entire National Park.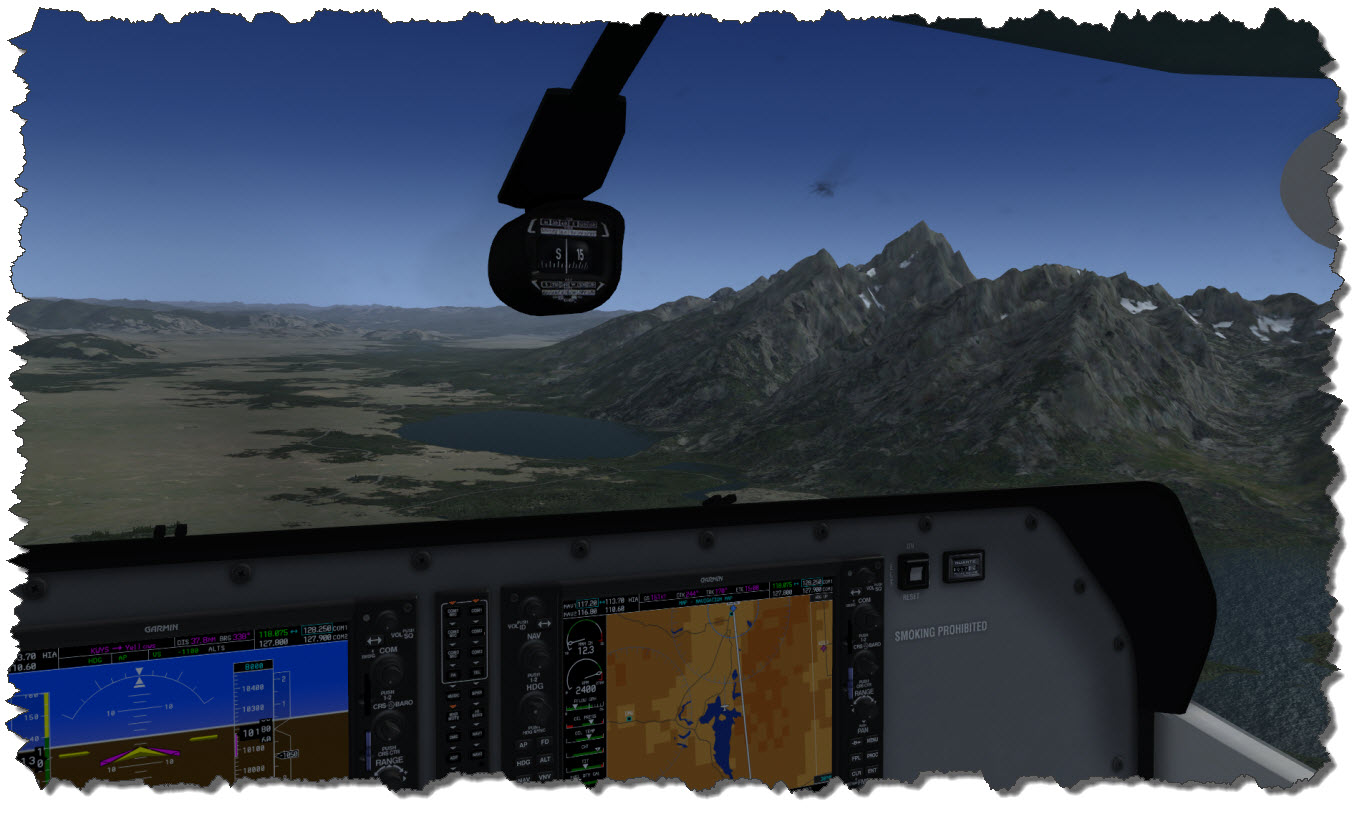 On short final, I can see a Cessna 208 taxing to the runway – luckily, the air traffic controller keeps an eye on me and that fellow pilot and asks them to hold short of the runway for incoming traffic.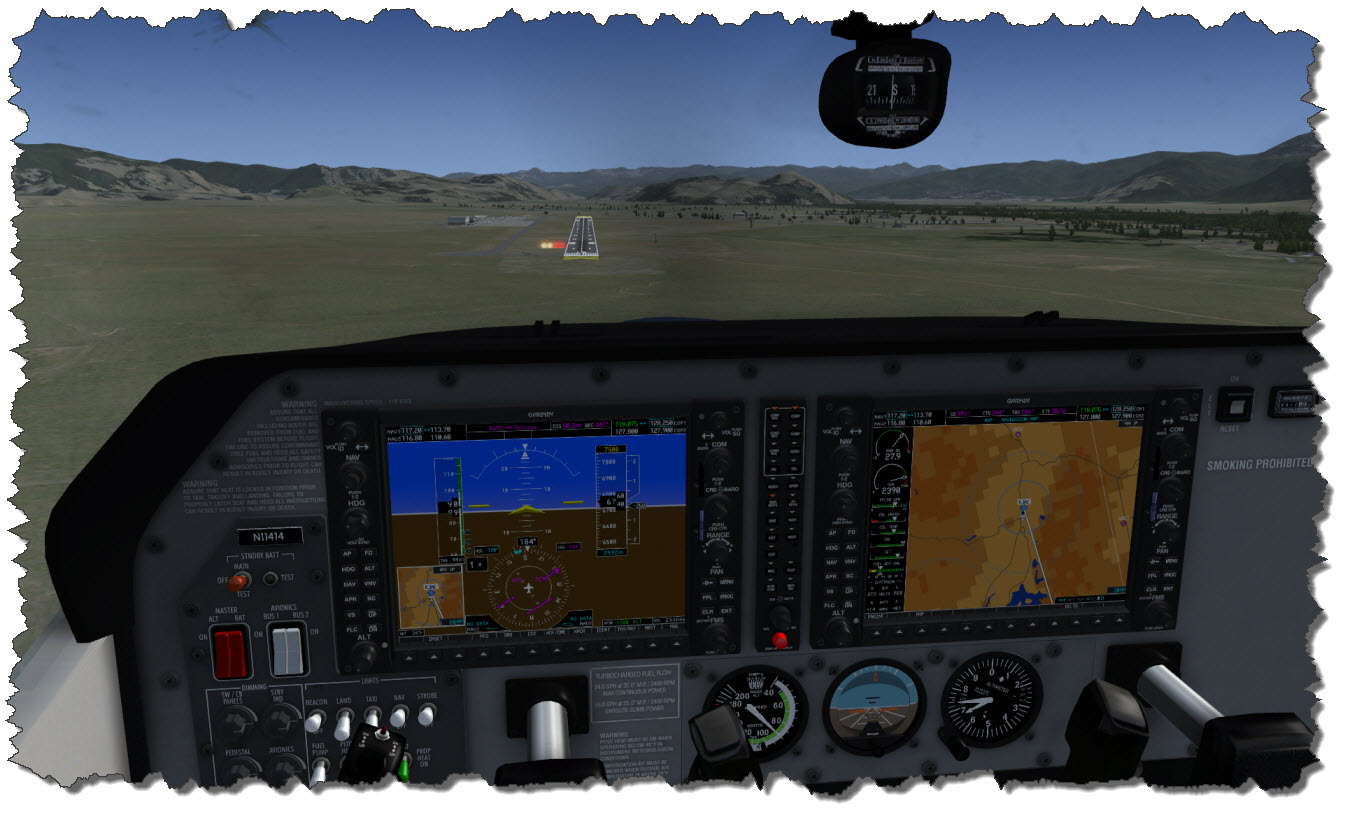 While my touchdown is almost centerline, I am slowly braking the aircraft to exit the runway at exit A2 – behind me, the 208 is already lining up.
Tired but happy I am taking the aircraft to the parking area and shut down the engine – a four hour flight is over, I am honestly tired but full of curiosity what my hotel (pre-booked!) will be like… and also what tomorrow brings (when I place ORBX's KJAC on the PC).

I do hope you have enjoyed the short trip with me – just a chance to see a bit more of the ORBX Central Rocky Mountains Scenery – and a worthy entrance to a review of KJAC later…