ORBX has just released their brand new ORBX FTX EU England scenery, something many European Flight Simulation Enthusiasts have been waiting for for a long time… some high-quality flying "on our doorstep".
A review of a different kind
A little while ago, I have written a Mission Overview document on a US Army Air Force Bombing Raid on Bremen & Kiel, historic date: June 13, 1943. With the new ORBX Scenery in place, this is a welcomed opportunity to combine this historic event with modern flight simulation: the 8th USAAF has been stationed mostly in the south-east of England, with the units of the 1st Bombardment Wing based in
Bassingbourn (91st Bombardment Group),
Alconbury (92nd Bombardment Group),
Molesworth (303rd Bombardment Group),
Chelveston (305th Bombardment Group),
Polebrook (351st Bombardment Group), and
Kimbolton (379th Bombardment Group
Today's review flight of the scenery will focus on a tour of these (mainly now disused) airfields in the virtual worlds of Flight Simulator X. Takeoff and landing is from EGSU – the airfield of Duxford.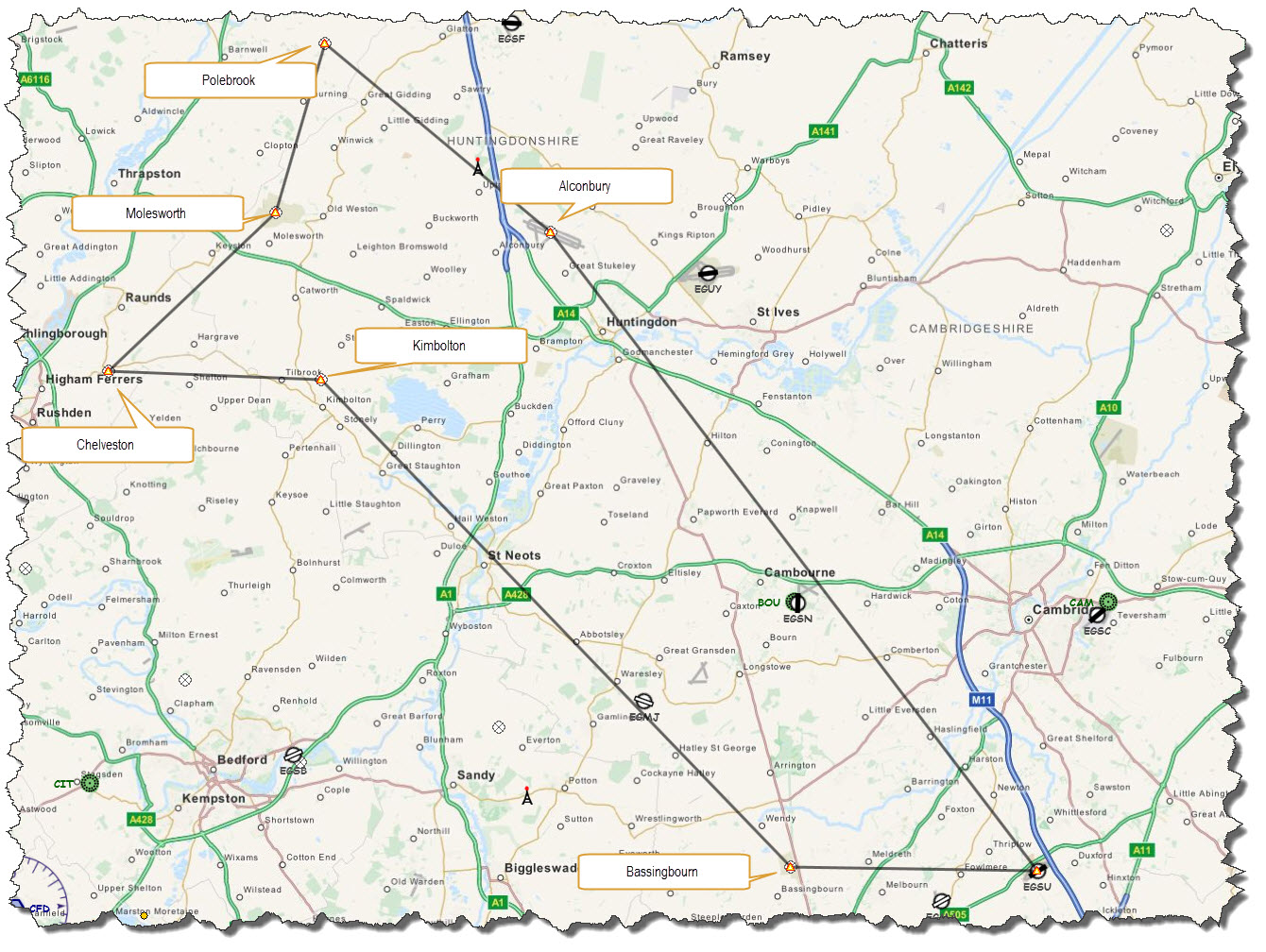 A trip in these historic footsteps calls for an aircraft of its own – one that matches the time and the occasion. And which one would more reflect upon the time and place than a B-17 Flying Fortress? Luckily, one is in stock for FSX – A2A Simulations has a B-17G in store.
This particular B-17, a G-Model, with the serial number 43-38414 and nicknamed "Heaven Sent" was assigned to the 100th Bombardment Group and was flying out of Thorpe Abbotts until she was crash-landed near Rochester upon returning from a mission February, 6th 1945.
In and out from Duxford
In Duxford, the Imperial War Museum is hosting a large collection of aircraft – and is flying some from the associated air field. Our B-17 – "Heaven Sent" – has been salvaged after the crash-landing and brought to Arizona. She was beautifully restored and is now roaming the – virtual – skies.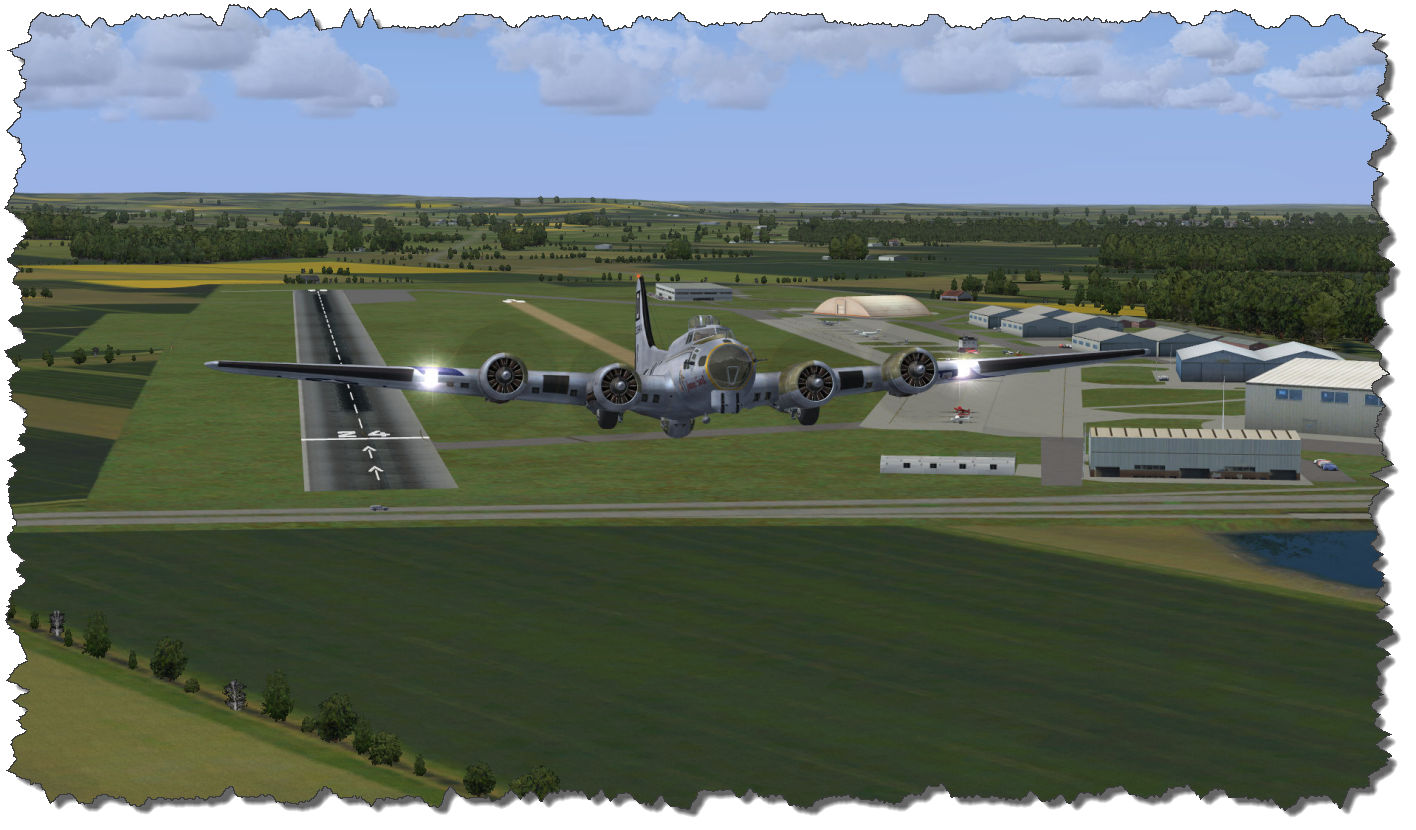 The runway in Duxford is not the longest one in the world – it is still sufficient to get the B-17 into the blue skies over England. For all FSX Enthusiast taking this as a review, please note that the season for the screenshots is set to "Spring"… give the nice yellow fields of rapeseed.
After reaching about 2000 ft. altitude, I am turing the old lady on a northbound course, passing the university city of Cambridge.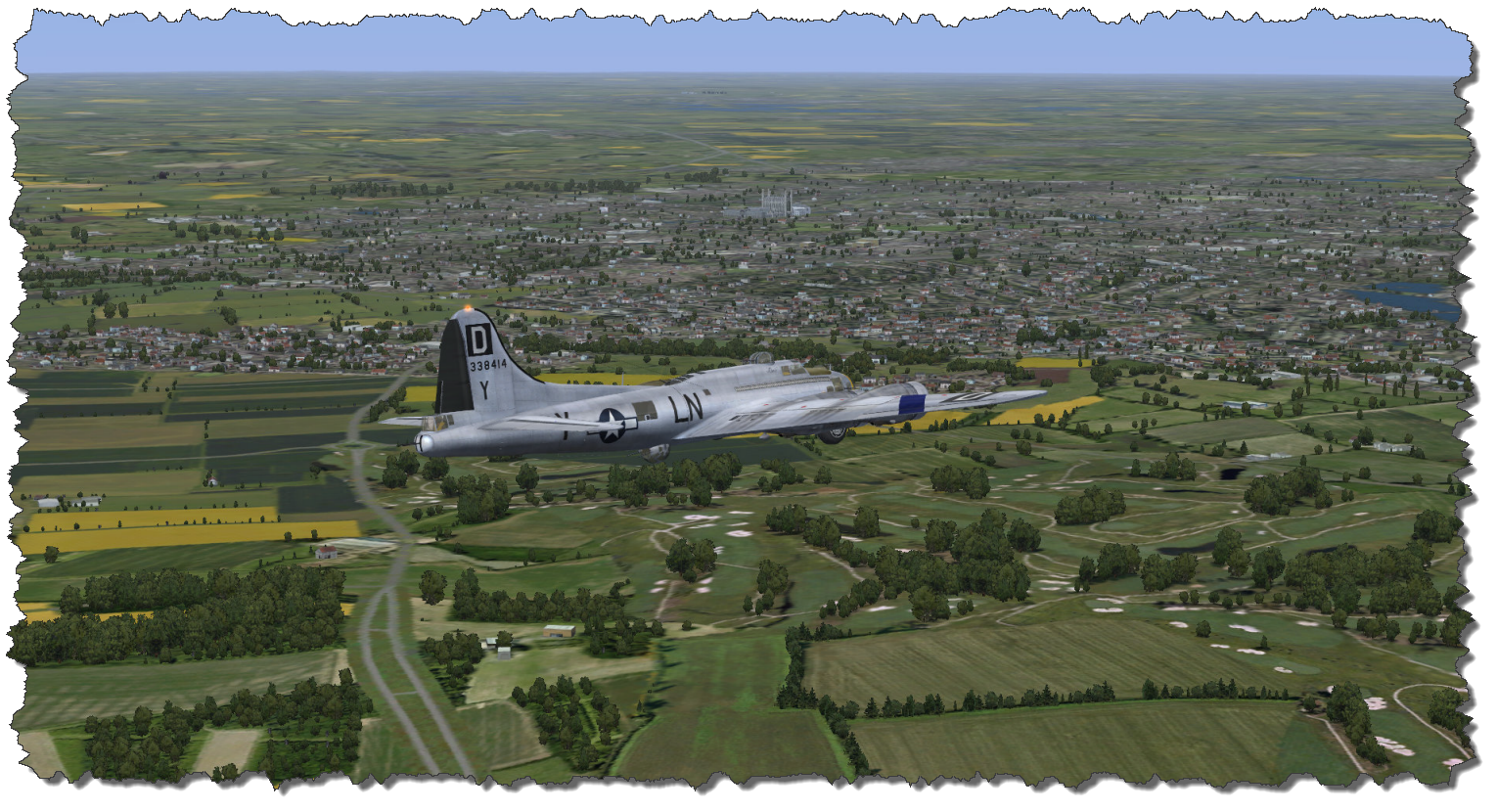 From the looks, the city is closely resembled by the land-classes used to define the various landscapes – but other than the Colleges area, the structures are auto-generated houses. That does not hurt the scenery, just might make you miss one or the other point of interest in case you are familiar with the area.
In times of data providers such as OpenStreetmaps, it is no longer a quality issue if a scenery includes the correct roads, rivers and coastlines – it is simply expected these days. So what makes me "feel" the scenery? The image below might give an idea.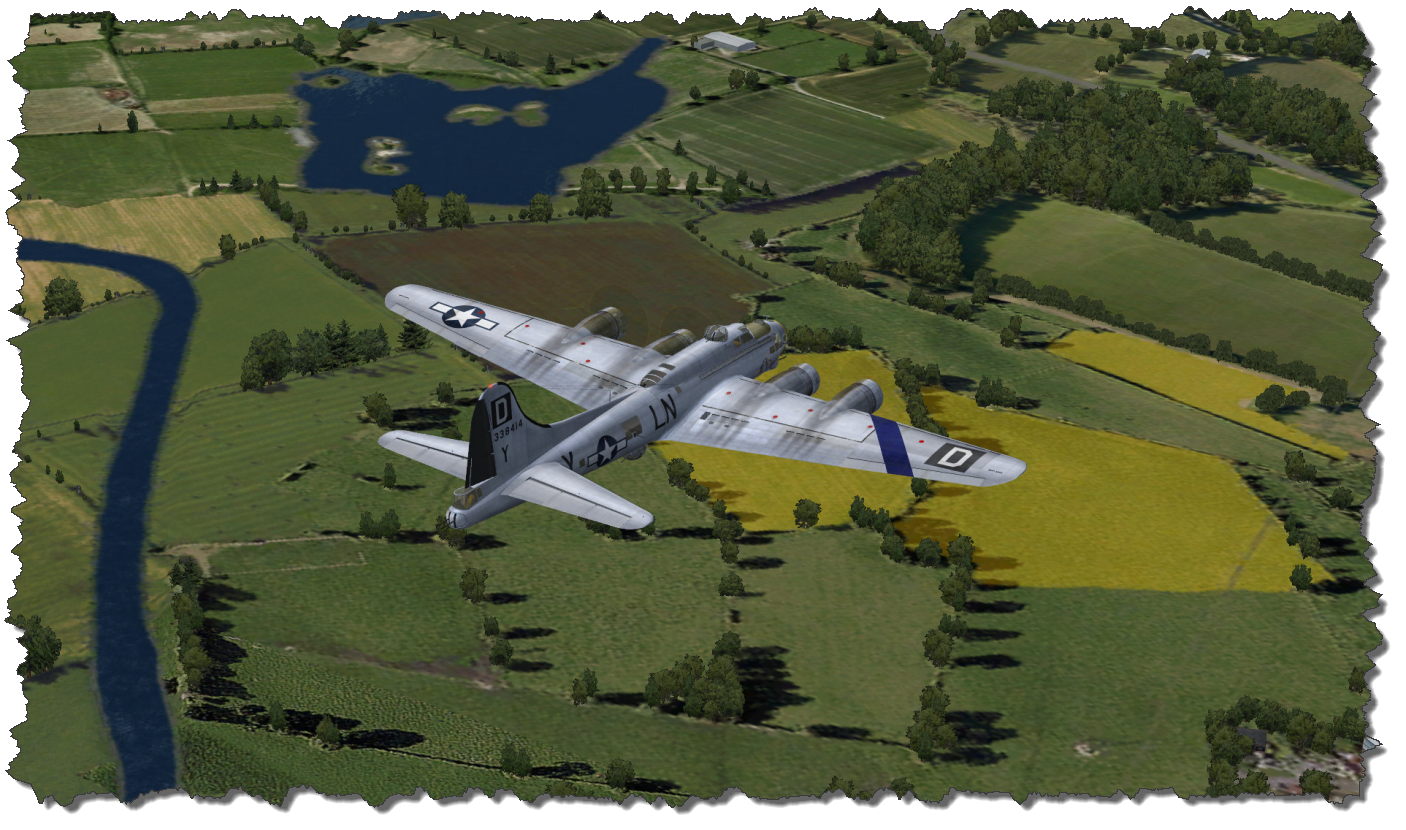 England, to me, has a typical landscape and one of the things that I connect with the British landscape is the way fields and meadows are laid out: the fields in Germany are usually of regular size and shape, one bordering the other. You will small patches of wood but – being efficient as we are – we have tried to organize farming and make access and plowing of the fields as easy as we can – for example: little to no trees in or between fields.
England seems different: the fields are also of small size and maybe even of regular size: what is different is the frequent stone walls between the fields and also the fact that far more trees are allowed bordering them than in Germany… and that makes up a special "look" – one, I find very closely resembled in the scenery I am just flying across.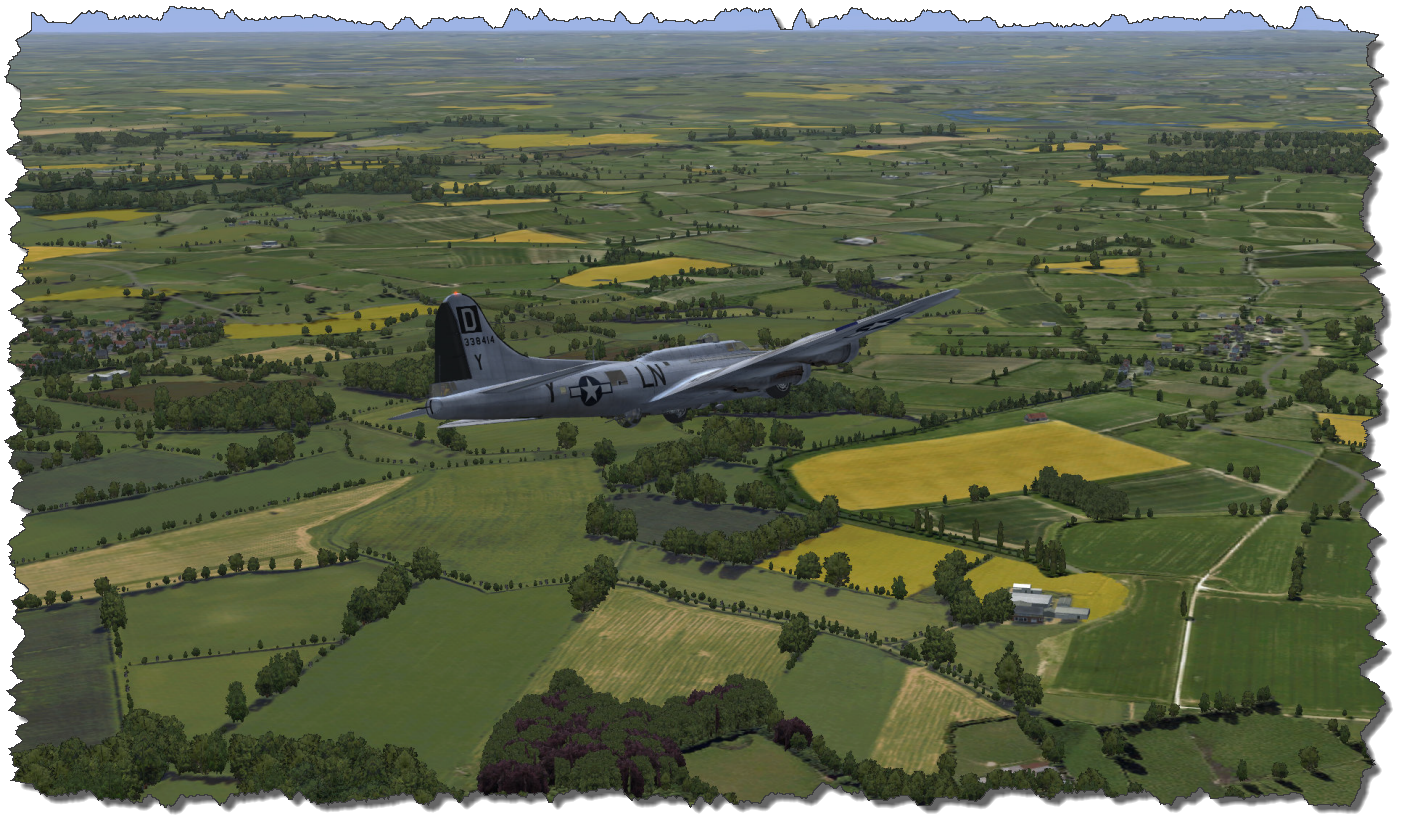 The other thing that needs to be mentioned is the crispness of the textures – you can see the rapeseed, you can see the carvings the plows have left, and you can see the patches of darker earth where the earth is moist… this scenery just "feels" real when you are flying across it!
But by all the fascination for the beautiful scenery expanding below – I also still enjoy the sights of the B-17G itself – flying through a blue sky as peacefully as she probably never did in her time.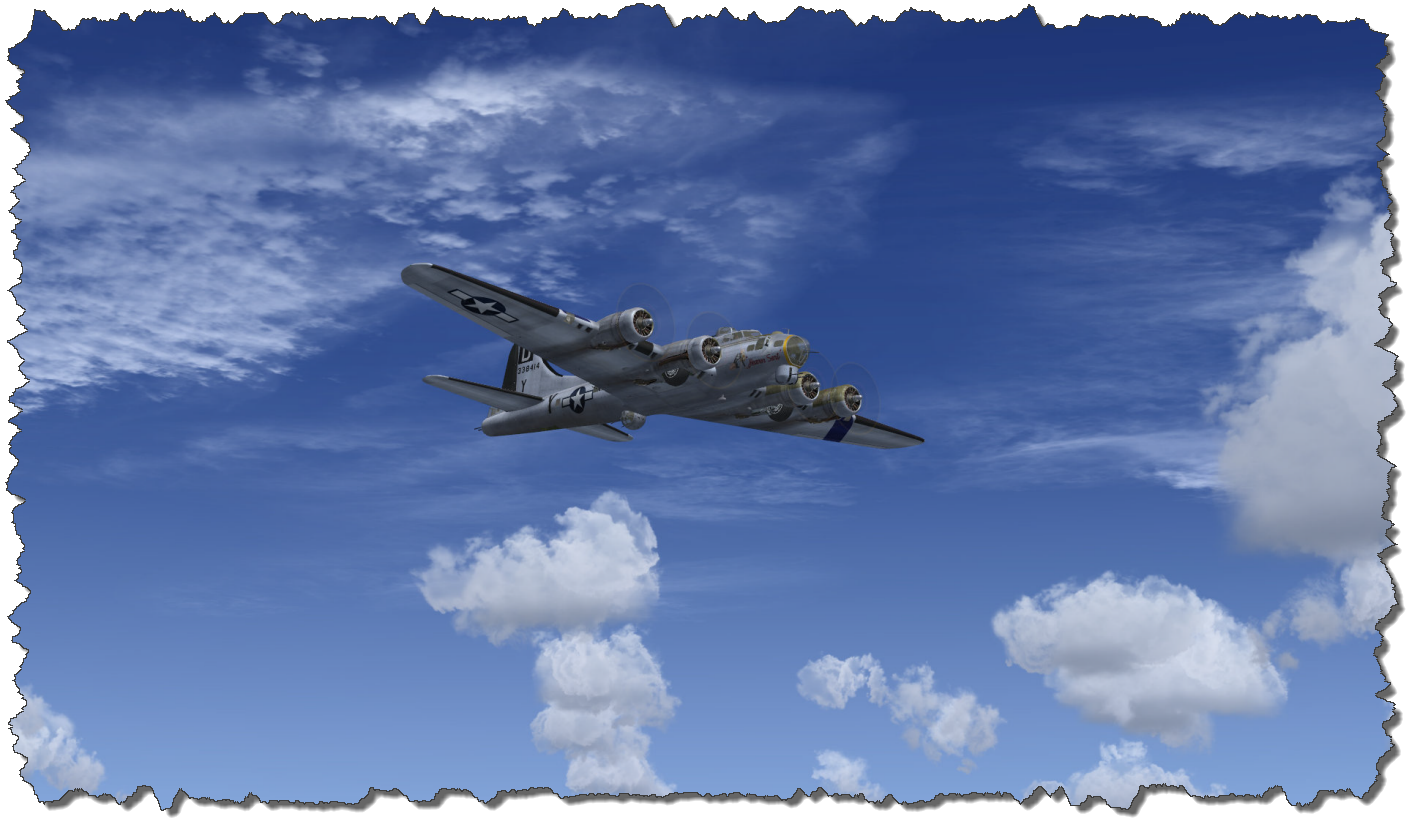 I have specifically chosen this aircraft, not only because it matches the scenery with its historic relationship to it – I have also chosen it to remind everyone reading this review that there sometimes is more to flight simulation than just gaming… if we consider it more a simulation than a game, I think it only fair to also consider the history of the aircraft we are simulating… and what they have been used for.
Past the old Air Base at Kimbolton (which nothing is seen of anymore in real and in simulation), I am turning to the south-east, making my way home.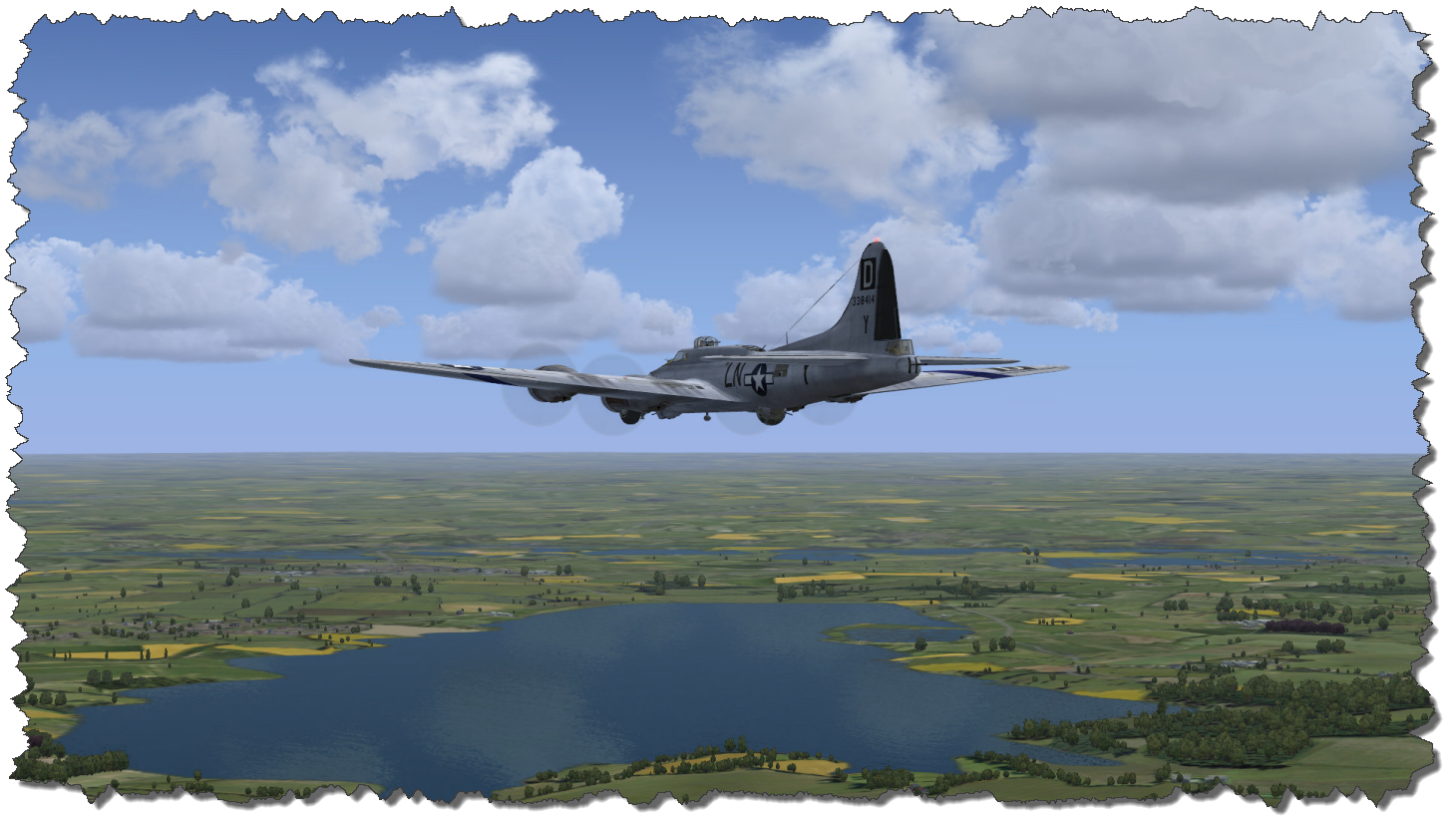 The old airfields at Polebrook, Chelveston and Bassingbourn – like the one in Kimbolton – don't exist anymore – not even as "disused airfields". Farms and local businesses have reclaimed what no longer was needed once the war had ended.
Two of the old airbases are still in military use – Alconbury and Molesworth. Both I have not found covered by the scenery – where military installations should have been, I found green fields…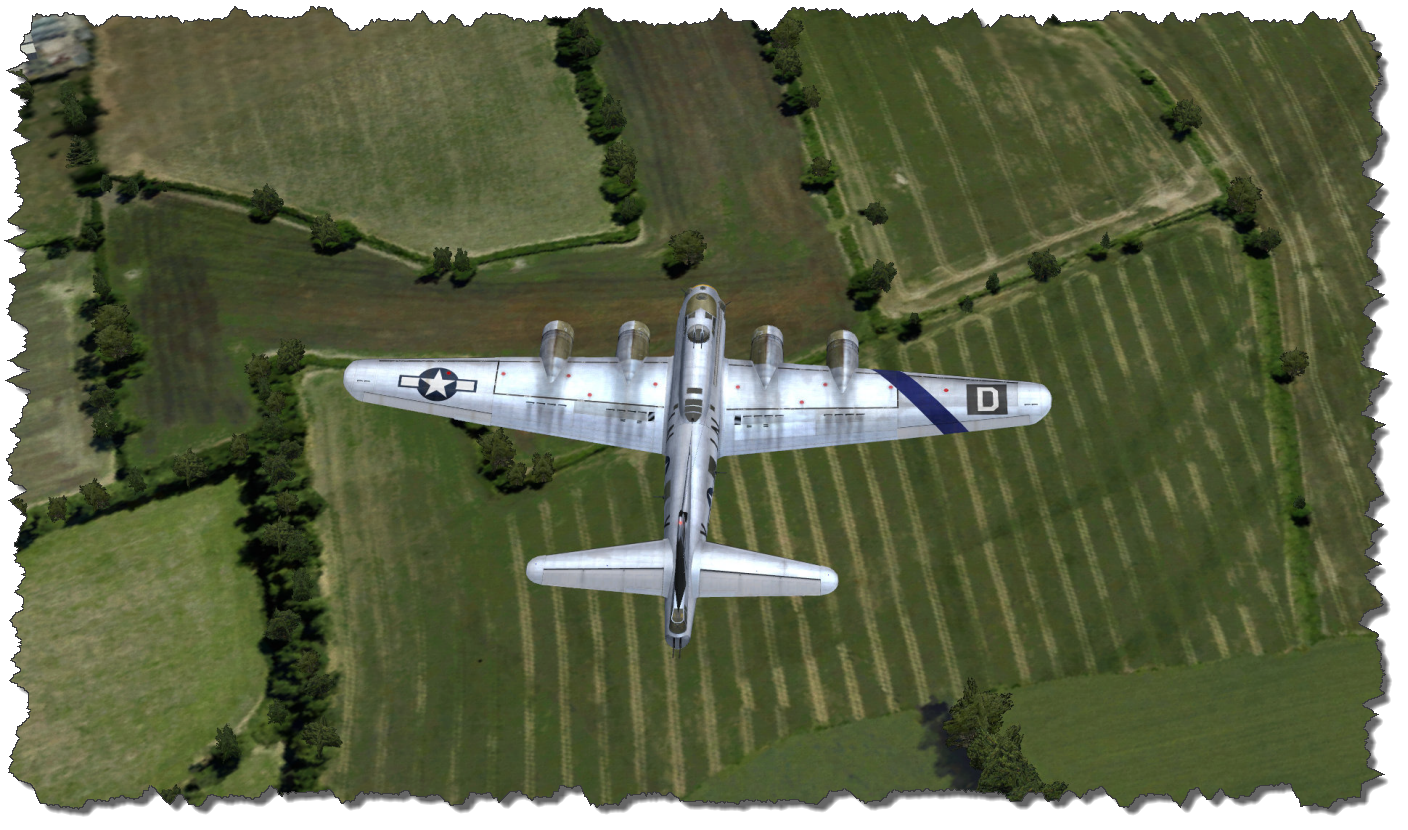 Those green fields, however, come at a spectacular sight and details – as already mentioned above. Just see the image above… if we'd turn it sepia and possibly age it a bit, it would probably be hard to distinguish it from a real photo taken…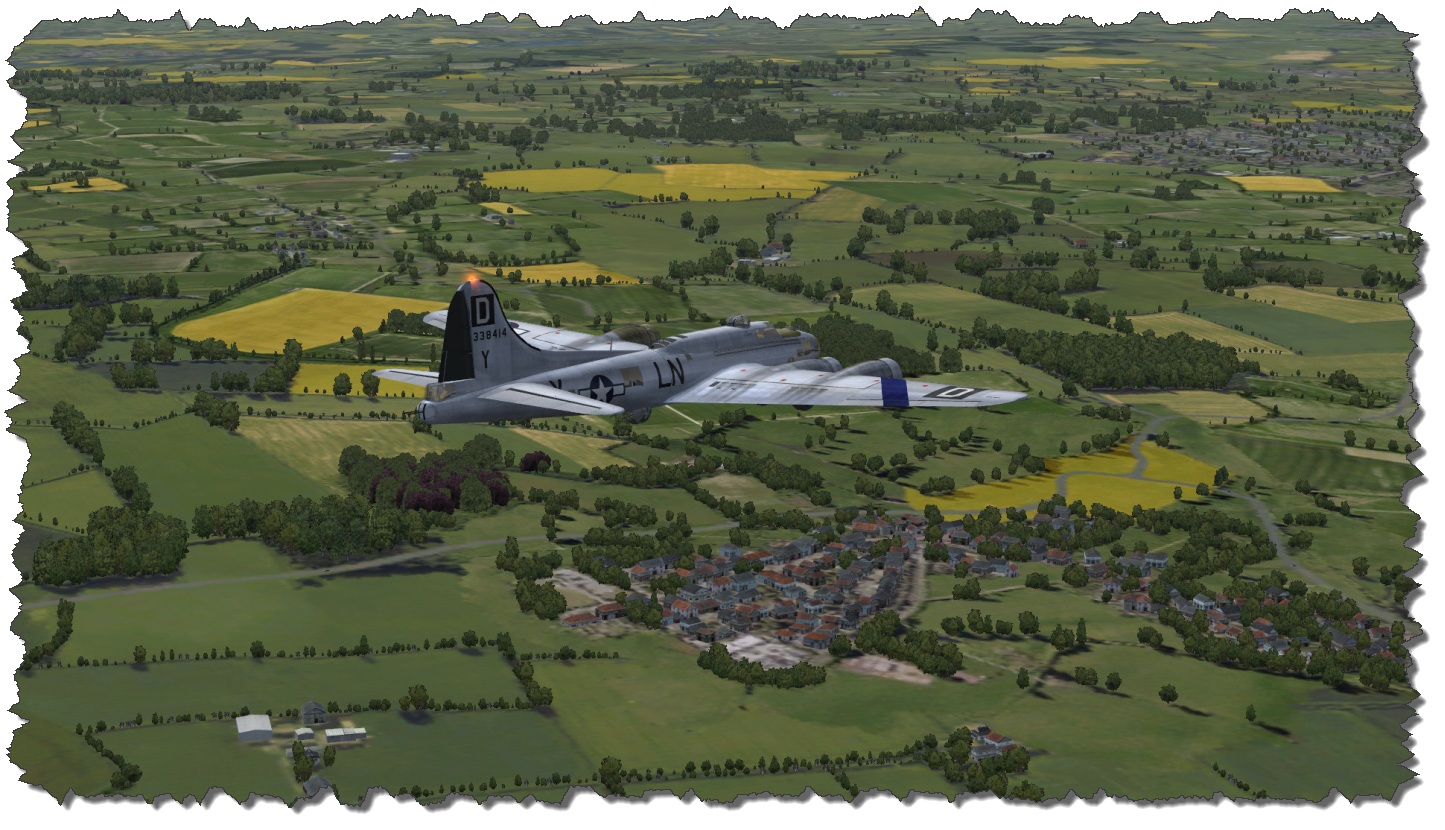 Another item that needs mentioning is the auto-gen… in many sceneries a matter of complaint, some people even switch it off entirely. But here, it is pure joy to see how the houses are aligned properly – following the roads and places of the villages and towns, matching in style and size what makes up just for a fantastic look.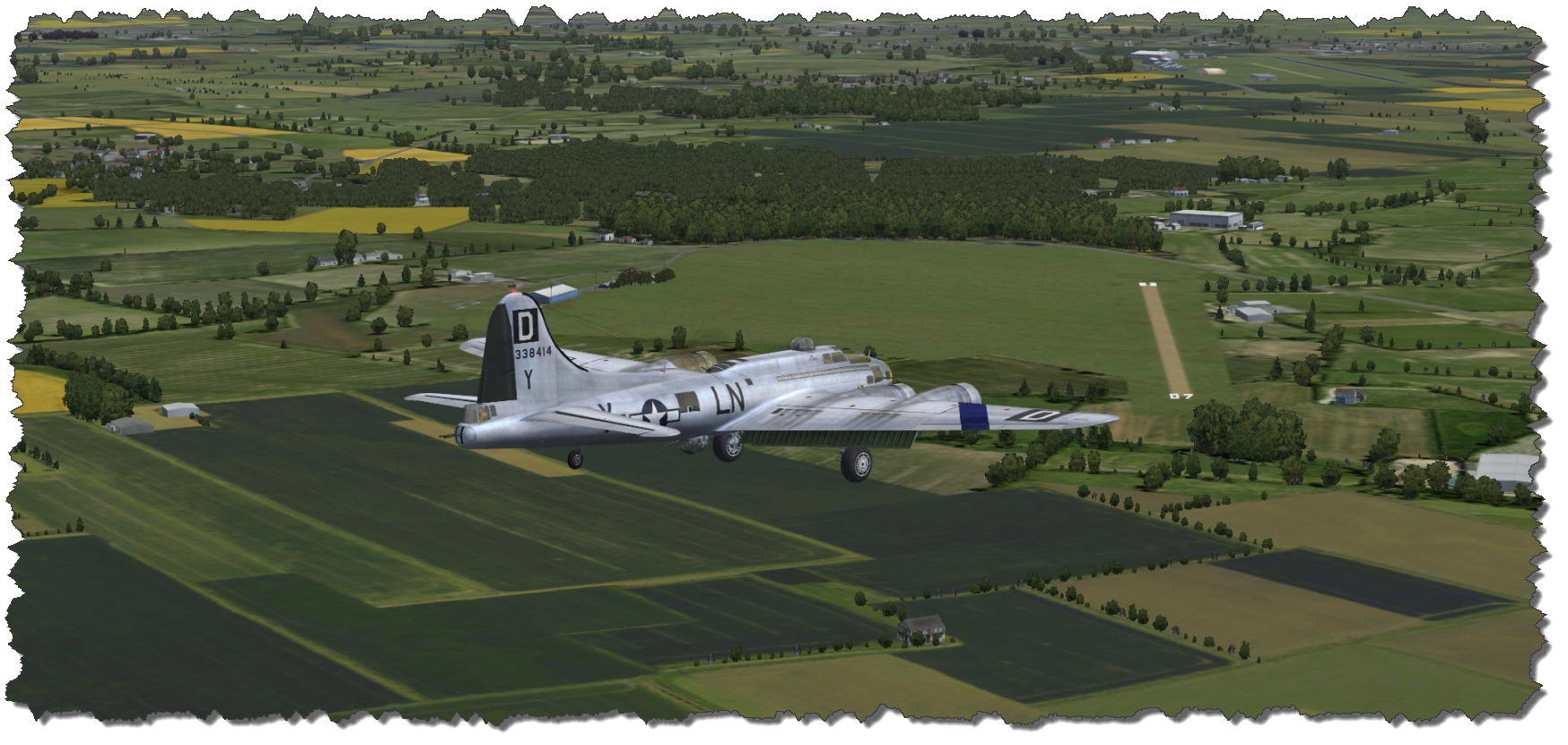 My flight is coming to an end – I am already in landing configuration when I am passing the old airfield of Fowlmere, home to a P-51B Fighter Squadron in late 1944 and 1945.
From the ground, "Heaven Sent" is making a nice appearance when in full landing configuration.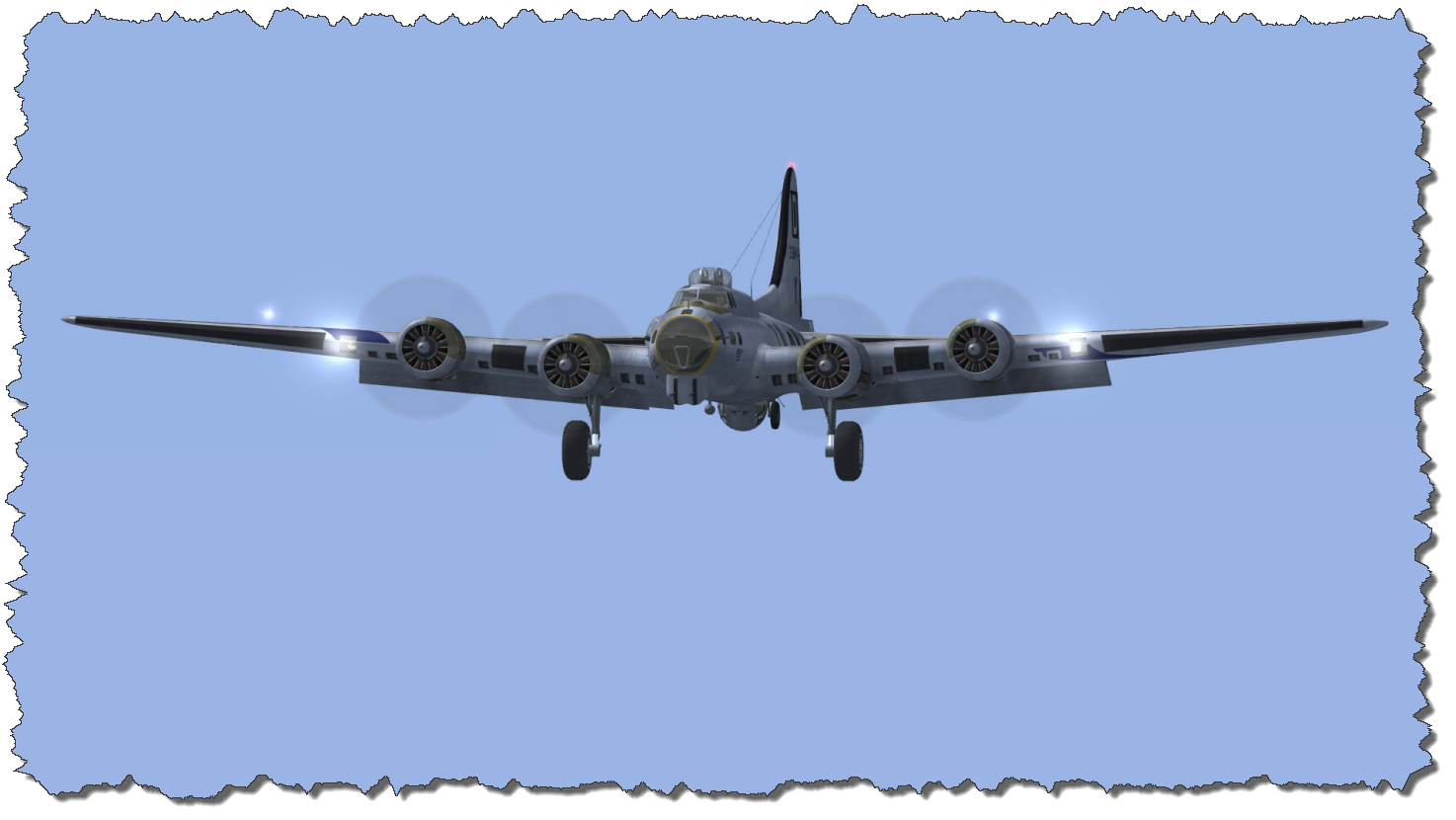 I am carefully taking her "over the fence", making a gentle touchdown at the beginning of the runway to allow myself all the space in the world to come to a stop and taxi in front of the Duxford hangars.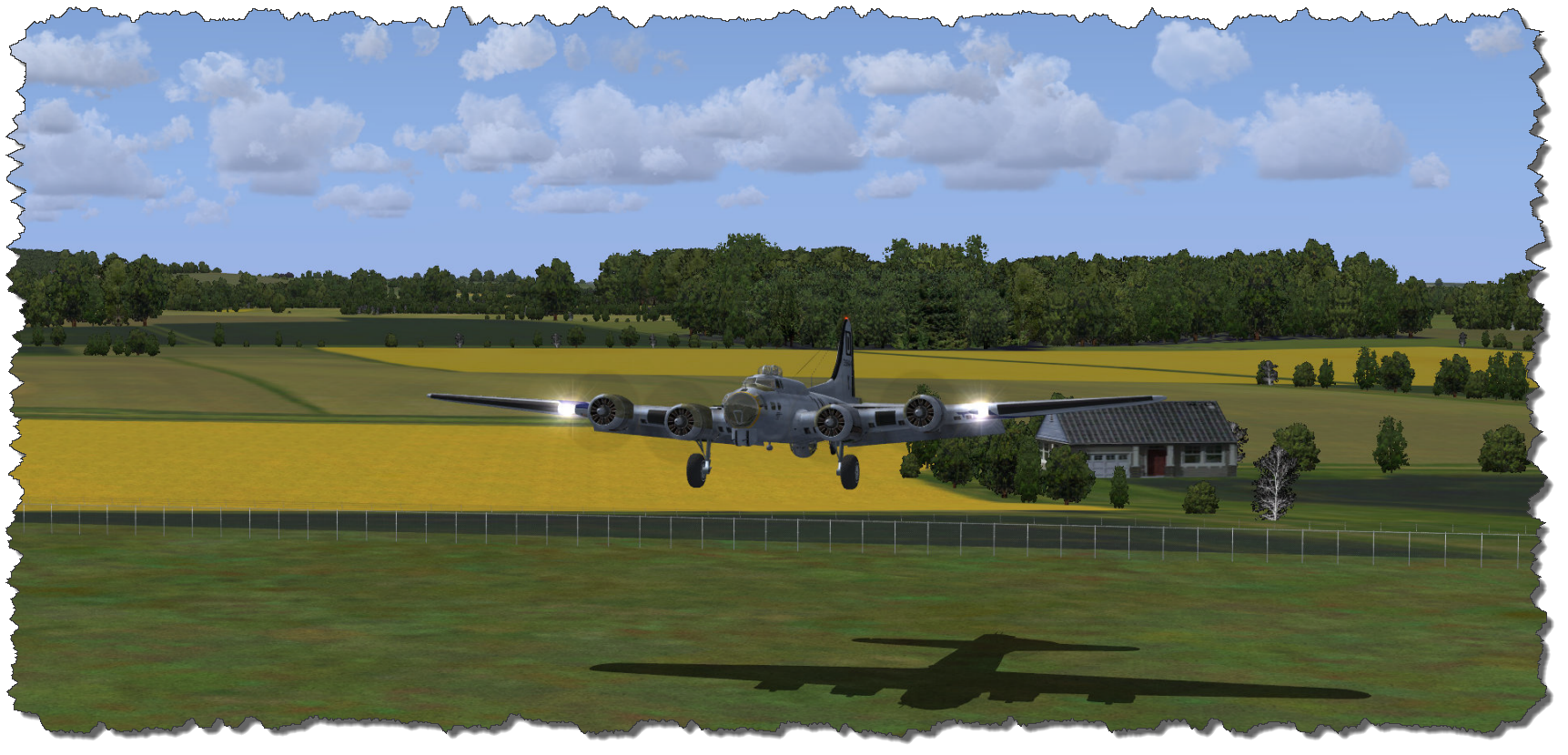 And while doing so, I continue to think about the idiot that has built his home right into the final approach to Duxford (see image above). In reality… it does not exist…
So my little trip is over – almost as planned (the detour around Cambridge is owed to the fact that I had problems sorting out the B-17's auto-pilot…) and I have made up my mind on the piece of software I have just flown with (the B-17G: clear like!) and the piece of software I have flown over (ORBX FTX EU England: clear mega-like!)…
Conclusions
I have been critical in my past reviews of ORBX Products – this one comes at a price of roughly 41 AUD – probably around 30 EUR. It is a scenery covering a large area – all of England! It is not built to meticulously resemble a small area (like ORBX KJAC)!
But it is breathtaking. And it is the first ORBX Product that I would rate as "worth every cent I spent for it". You'd like to fly in good old Europe, don't mind the English weather and expect a top-notch scenery that is not a photo scenery? Well… here you are! Personally, I cannot wait for Scotland to come after the team has finished with Wales… expect me to buy those two as well… and keeping my fingers crossed to see ORBX cover Germany one day in the future…